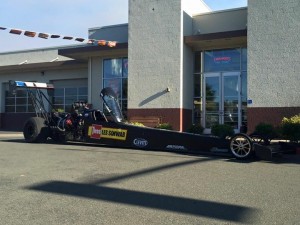 After losing her major sponsor just one race ago, Top Fuel rookie contender Jenna Haddock will roll into the peaceful wine country of Napa Valley for the 28th annual NHRA Sonoma Nationals at Infineon Raceway, the second stop on the famed Swing, with the support from the Sonoma County Les Schwab Tires group of stores.
Les Schwab Tires, headquartered in Bend, Ore. was founded by Les Schwab in 1952.  It has grown into one of the largest independent tire dealers with over 450 locations in the country.  The Sonoma County group is made up of four locations, Windsor, managed by Rob Paulson, Rohnert Park, managed by Manny Castrellon, Santa Rosa Montgomery, led by David Lindsey and Santa Rosa Avenue, managed by Jessy Usher.
"Les Schwab's motto is 'doing the right thing since 1952' and that's everything Jenna and her husband Terry represent," expressed Usher, spokesperson for the group.  "The hard work and devotion they put into racing exemplifies our values.  They are that one small team working hard and we were that one store that worked hard to be what we are today.  Yes, we're a corporation but we're family-owned and partnering with Jenna is a great way to show what we support as a company.  It's a perfect match."
This will be Jenna Haddock's first time in competition at the beautiful facility and six years since her last visit.  She faces the challenge with her usual enthusiasm and exuberance that is making her a fan favorite around the country.
"I am super excited to have Les Schwab join us," said Haddock.  "We've known Jessy and the group for several years.  They've been an associate sponsor for us and when Patriot left us, I offered them a full spot for Sonoma and they took it.  We're a small team and losing our major sponsor was a tough blow.  So I can't thank them enough for coming on board to help me.  We did a display at the Santa Rosa Avenue store earlier this week and we had a blast.  They are all such great people.  Two representatives from each store will be joining us at the track for the race and I can hardly wait to show them a great time.  I can't tell you how proud I am that they have chosen me to represent them and I will do my best."
Running a limited schedule, Jenna Haddock is currently 18th in Top Fuel points standings, attending 6 events this season.
"I love my race car and driving it and I'm excited to get to be in the car and do this for another weekend.  Because we run a limited schedule, I usually have to wait several weeks between races.  But we ran Denver last week and now I get to do it again.  We are looking to make some good runs and make some progress on our numbers.  And most of all we want to have a good clean weekend."