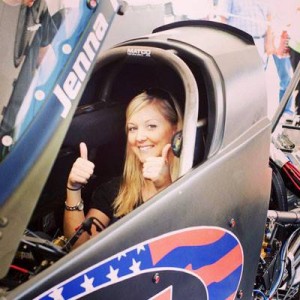 Jenna Haddock, the wife and new NHRA Top Fuel driver for Terry Haddock Racing just announced the departure of major sponsor Patriot Grading on her Top Fuel Dragster.
Patriot Grading & Engineering is headquartered in Fontana, California and owned by Bascom Mellon.  They joined Jenna Haddock in Denver last season at her Top Fuel debut for the Mopar Mile High NHRA Nationals, and have remained on-board since as major sponsor.    Patriot Grading is a full-service grading contractor that serves the Southern California region.    Budgetary cuts and more emphasis on regional advertising were cited as their reasons for departure.
This was a very difficult decision to make," said Mellon, "but I'm just a regional guy.  That's all I am and there's no advantage for me to advertise nationally when things are tight.  It has nothing to do with Jenna; I wish her the best.  I hope someone will step up and help her so she doesn't have a blank car in Denver.  And I'm hoping I can join her again for the World Finals in Pomona."
Haddock plans to honor her existing commitments to associate sponsors by competing in the NHRA Western Swing as originally scheduled, as well as a few previously arranged match races between those dates.   Beyond those dates, Jenna and her team will have to evaluate their options on finishing the 2015 season.
"I want to thank Bascom, his wife Ashley and Patriot Grading from the bottom of my heart," expressed Haddock.  "I couldn't have realized my dream without their support.   I can't deny that this hurts us both emotionally and financially.  But I understand that sometimes tough business decisions have to be made.  We've become friends with Bascom and Ashley and I will miss the special bond that we have developed.  We will remain friends and they are always welcome to join us at the races."