Good news this week as Racer Magazine announces their annual Racer of the Year awards.     One of my favorite ladies in racing, Erica Enders captured not just one, but TWO Racer of the Year awards, gaining the ultimate overall category win as well as the Drag Racing award.
Congrats, Erica Enders!
It is really great to see her received the much deserved accolades that go with such a monumental win.   Not only is it big and inspiring news to see a woman win the World Championship, but to have done so in such down-to-the-wire dramatic fashion, is nothing short of amazing.   Thinking back to all the naysayers and the struggles she endured in her Pro Stock career, I'll say that the awards are much deserved celebration to her feats.
Racer of the Year
The award is voted on by readers, which to me, is a strong indication of the loyalty of NHRA fans.   John Force won the top award in 2010, 2013, 2014.   Enders now takes the overall spot for 2015.  And someone tell me again why drag racing isn't a good sponsor investment?  That's some fiercely loyal fanbase there.  In fact, while she won Racer of the Year honors with 48.9% of the vote, the next closest competitor was Mr. Force himself with 9.7%.   That's a landslide victory for Enders, and a lionshare vote for drag racing.
But what saddens me, was the pre-season announcement that her Elite team may not compete in all of the NHRA events again this season.   What is wrong with the world that the defending Pro Stock champion- a marketable, personable, history-paving woman- can't get the funding she needs to compete in a full season?   That question may lie more in the NHRA's programming than in her abilities as World champion.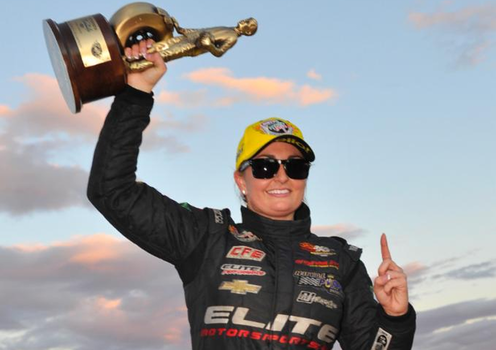 Either way, here's a big shoutout to Erica Enders-Stevens, Racer of the Year!