So, I've made the commitment to myself to get back on the wagon of writing in this blog more often.   Racecar ready or not, I enjoyed blogging all about different things related to NHRA, drag racing or women racing in general, and a lot of that stopped when I started writing my Women In Motorsports column for Examiner.com.
There probably isn't a good segway into getting back into it beside just jumping in with both feet, so I guess there is no better place to start than a little Pro Stock controversy.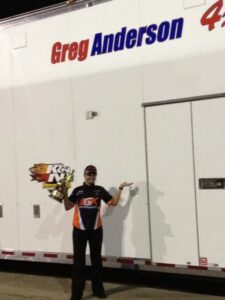 Now, I'm naturally a strong women in motorsports advocate, so this comes with obvious bias, but I'll present the facts and let you make your own determination.
This weekend at the NHRA Sonoma Nationals, after an apparent little staging battle during Round 2 eliminations between Greg Anderson and Erica Enders, Greg Anderson voiced his displeasure with Erica during his ESPN2 top-end interview, calling her unprofessional and accusing her of being unsportsmanlike in actions following her first NHRA Pro Stock win 5 weeks earlier, where she defeated him.
Apparently, the ill-comments stemmed from a photo taken of Enders hoisting her Wally after the win in front of Greg Anderson's trailer.   (seen at left)
Now, the background story behind this photo, at least for us with a sense of humor, is that Greg made multiple comments to the press over the past few years that he didn't want to be "that guy" who lost to Enders for her elusive first win.  To me, that was a repeated jab against Enders, who took it in stride and never made much ado about what could have also been viewed as a rather childish comment to be made repeatedly about a competitor.
Nearly 5 weeks after that incident, Greg took to the ESPN2 airwaves to comment on the situation regarding the staging battle and her post-race win behavior.
"Sorry for her luck. It's always good when you race her and I've said it all along … she kicked my butt in Chicago. I really didn't appreciate some of the things she did after that race … it was, in my mind, a little unprofessional. I think the karma train got her a little bit there. She's a great racer but you have to be professional." — Greg Anderson
My personal thought is that the photo was good-natured jesting by Enders, who celebrating her victory also was able to point out the irony in the fact that despite his many comments to the contrary, he was in fact "that guy" who lost to her in her first win.
What I did find a bit childish was the staging battle.    Sure, its legal, but its awful immature to resort to treating her like that on the track.  It worked to his favor, as she red-lit in this round handing him the win, but sure doesn't paint him as the most sportsmanlike competitor.
What do YOU think of the controversy?  Do you think Erica Enders was unprofessional in taking that photo or was Greg Anderson the first low blow with his comments about being "that guy" to lose to Enders?