Wow!  What a weekend for the ladies in NHRA!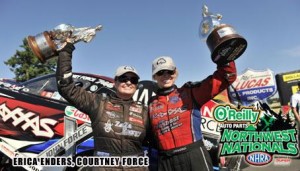 Courtney Force landed her first NHRA Funny Car victory, a feat after climbing back from the #14 position at the bottom of the ladder.   This all coming in her rookie Funny Car season, in just her 15th start.   She's definitely proving to be quite a Force to be dealt with (pun cheesily intended).
Force and Enders share Seattle podium
But for the first time in history, she would be joined by another gal on the PRO podium, with Erica Enders also landing her second career win in Pro Stock.   Erica's win came just 3 races after her elusive first win in Chicago, but what makes it even more poetic to me, is that this win comes just one week after the crazy controversy between her and Greg Anderson in Sonoma.
The internet has been on FIRE with the backlash against Greg after he publicly declared Erica Enders "unprofessional" on his ESPN2 interview following the round in Sonoma.    Not only was he asked by his sponsor Summit Racing to apologize to Enders and her crew, the ill-karma he wished upon her came back to bite him.   In what can only be the most fitting form of proper karma dispatch, it was Enders who put Anderson on the trailer early in the race en route to her second career win.
Enders was quite the gracious winner.    The rest of us however, had a field day with that one.
Apparently, it didn't stop with the fans either.   Matt Hagan made a remark during his final round interview that he didn't mind losing to a woman.    John Force also was quoted saying how capable and talent the women of our sport are, with a special mention to daughter Courtney, Erica and Shirley Muldowney.
Its sad that there are people out there who still view women as inferior competitors.  Motorsports being the great equalizer- the cars don't know gender- its really disappointing to know the amount of sexism that still lingers.
Kudos to the ladies for such a great weekend of racing!
Photo:  NHRA