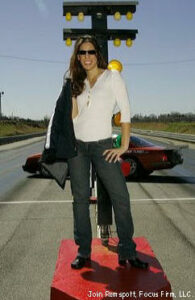 Horsepower & Heels founder and driver, Erica Ortiz made the list of the Top 25 Ford Drag Racers of the past 20 years.
The list, complied by Damon Steinke of E3xtreme Motorsports Media, includes many of the early pioneers of the sport and the great champions of the Ford Drag Racing movement over the past two decades.
Erica Ortiz made the list of the Top 25 Ford Drag Racers for her efforts in both the Pro 5.0 and Drag Radial categories.  Ortiz finished second for the championship in both categories: Pro 5.0 in 2006, and Drag Radial in 2003.
Erica began her career in the True Street class, before making the jump to the heads-up racing world of Drag Radial in 2002.   Her signature  turbocharged small block Fox body coupe was an 8 second player in the early drag radial movement, where she was able to finish the season in 2003 as the series points runner-up.   She navigated her budget-built 1986 Twin Turbo Thunderbird to mid 6 second performances in Pro 5.0 during the 2006 season.  The determined racer finished second in points in her rookie season of Pro 5.0, before pausing her racing career to focus on family and her full-time profession.  Ortiz is hopeful of a return to racing in the near future.
"It is really an honor to be included in such a prestigious list.   Those guys were my heroes, and to be recognized among them means a lot to me," said Ortiz of the honor.
25 for 20:  Top 25 Ford Drag Racers of the last 20 Years
Read more:  http://www.e3xtreme.net/top-20-fords/2016/7/19/20-for-20the-top-20-ford-drag-racers-of-the-last-20-years
Published:  E3xtreme Motorsports Media |  July 19, 2016