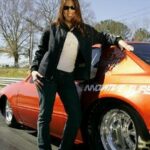 Columbus, GA– After several years competing in the FFW Drag Radial class, Erica has stepped up to join the Pro 5.0 ranks with her recent move to a tube chassis Thunderbird and switch to a 500 cubic inch twin turbo program.
Erica prepares to compete in FFW Pro 5.0/Pro-Modified
The Thunderbird was originally built by Gateway Racecars in Missouri during the late 80's. Parker Chassis has begun updating the chassis and suspension, as well as fabricating the twin turbo conversion. Innovative Turbo is supplying the class legal 76mm units, and Moody Racing Engines will be providing the big block Ford bullet. The expected 2000+ horsepower will transfer to the ground via a Bruno/Lenco converter driven transmission, with Neal Chance 10″ bolt together turbo converter. For Engine Management, Excessive Engineering will be at the controls of the new Big Stuff 3 system. Plans are to begin testing and sorting the new combination in late April, early May.
"Its thanks to the faith and support of all the people involved with my racing program that have made this evolution possible. My focus this year in PRO will be to gain some experience and to ensure that as much exposure feasible is available to the great people that have made this all possible."   — Erica Ortiz, Horsepower & Heels driver