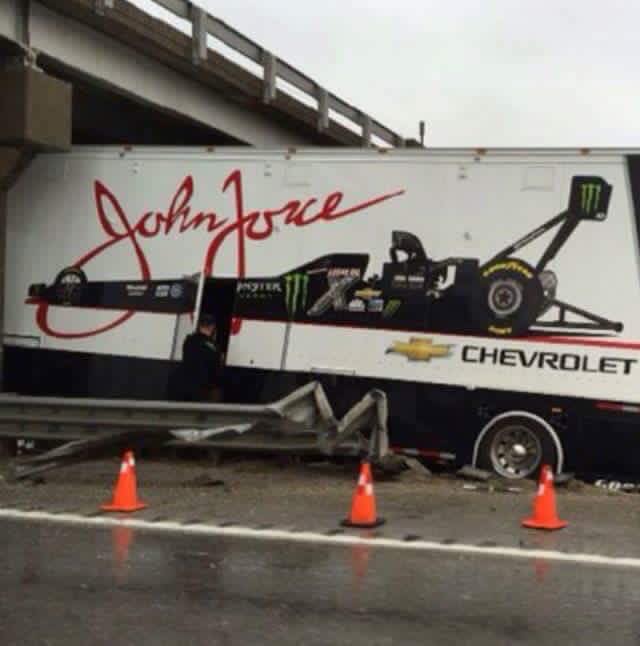 The Monster Energy transport hauler of NHRA Top Fuel driver Brittany Force was spotted wrecked on the side of Interstate 70 West in Missouri around mile marker 99 heading towards Kansas City.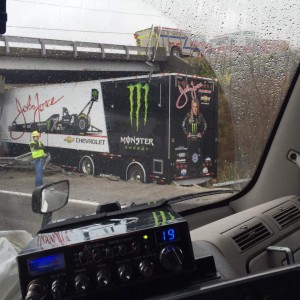 Witness accounts of the mangled transporter reported on Facebook that the hauler, traveling westbound on I-70 near Boonville, MO to this weekend's Toyota NHRA Nationals in Las Vegas, took evasive measures when an east-bound traveling vehicle crossed the median into the path of the 18 wheeler. The Monster Energy transporter, carrying Brittany Force's Top Fuel Dragster and service equipment for the team, struck the railing and lodged itself beneath the concrete support pilings of an overpass.
Brittany's team driver and the hauler's occupants are all reported to be ok.
The tractor was found on its side with extensive damage, but it appears that the contents of the trailer may have weathered better in the scary collision.  No other details have been released.
[Source:
Dragzine.com
]
Brittany Force currently sits in the #4 position in points following the Dallas event.   She is 207 points behind leader Antron Brown, but the remaining top 5 contenders are close in points.
Video of Brittany Force Transporter Wreckage