You know, nitro Funny Car driver Ashley Force-Hood has been having a heckuva year. She's won several events, led the points chase, been to a handful of finals…. Girl is on Fire. (not literally. That would be BAD.)

Love it.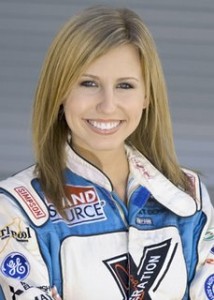 But there are 2 more Force girls out there racing worth the mention, and one looks to me to be making quite the splash too. Younger Force spawn Brittany and Courtney are both competing in Top Alcohol Dragster while they are attending college. Courtney is also all over the internets with a column in USA Today and participating in all sorts of cool Fiesta Movement shenanigans. (check out her twitter here or youtube antics here)
This past weekend in Seattle, both younger sisters made it to the semi-finals, having to face off against each other. With Courtney taking the win in that pairing, she would be the lone Force car left heading to the final rounds for that day.
Courtney Force defeated Chris Demke in that final to score her first TAD win, the lone Wally in the JFR pit for the day.
I'm a huge fan of all the Force girls, but something just stands out to me about Courtney, and I'm really excited to see her move up and join her dad and sister in the nitro categories. I *suspect* it may just be in a JFR dragster and not the typical flopper, but its just a hunch and would be cool to see. My fear is that her eventual move to funny car may be filling the seat of her retiring dad, and I don't think I'm ready for that yet.
Where ever she ends up, she seems to have the whole package: trademark Force good looks, articulate, engaging, and royal drag racing blood to boot.
Congrats Courtney on the first of many wins!