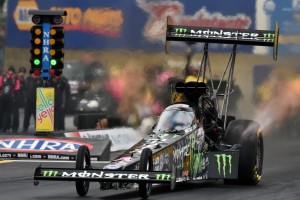 Despite the wet and cold conditions that have plagued the 31st Annual NHRA Keystone Nationals this weekend in Reading, Pennsylvania, Brittany Force lands No. 1 qualifying position, the first of the 2015 season and fourth of her young career.   The third year pro moved from 4th to 3rd in the Mello Yello Countdown to the Championship point standings, going around Larry Dixon by four points on the strength of her three qualifying bonus points and the points allocated for the No. 1 qualifier.
Brittany Force lands No. 1 Qualifying Position
Force's run was the strongest of a session that saw most of the Top Fuel dragsters struggle with the cold conditions.   With a short field in Top Fuel of only fourteen race cars, Brittany Force will face No. 14 qualifier Dave Connolly in the first round.  The winner of that 1st round pairing will receive a bye into the semi-finals.
"It is definitely tough going into tomorrow with only one run under our belt. It is not just our team but everyone out here.  Everyone will battle that. Like Robert said we would like to have more runs but these are the conditions we all had to work with. We put down an awesome run in this Monster Top Fuel dragster," said Force, who has raced to three semi-final finishes in the last four races. "We drove right through the shake zone and put an awesome number up on the scoreboard. We set a new career best record which we broke from our time and speed here last year. We like Reading and we went all the way to the final last year. We are hoping to take it all the way this weekend."
The Monster Energy Top Fuel dragster launched hard off the starting line and flew right down the middle of the lane, running a 3.725-second pass at 331.53 mph. It was the smoothest run of the session and at the top end Force knew she had made a solid pass.
"I could tell that run was a good one because it just felt fast. Sometimes you know it is on a killer run. That run it just felt fast and clean. I knew it was a good one but my radio came unhooked so I was trying to talk with my guys to see what it ran," said Force. "I didn't know what it ran until I hoped out at the top end. Everyone was cheering when we rolled up so I knew it was something good."
Brittany Force is 2-1 against Dave Connolly with her two wins coming in first round match-ups this season. Most recently Force dropped a semi-final race to Connolly last weekend in St. Louis.  She hopes to vindicate that loss, by taking the win against Connolly to put her in the semifinal.