Brittany Force throws the first pitch at St. Louis Cardinals home game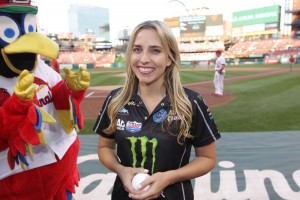 Thursday evening,  NHRA Top Fuel driver Brittany Force took the mound at Busch Stadium for the ceremonial first pitch before the Cardinals defeated the Milwaukee Brewers 7-3.     Beforehand, Brittany Force, the 2013 NHRA Rookie of the Year, was nervous but excited.
"I was nervous about it all day and really have been nervous since we decided to do it. I had a bad experience throwing out the first pitch once before. I told myself I would never do that again. I decided to give it another try at the Cardinals game. We had a busy day before the pitch with a press conference and media interviews," said Force. "We actually got down on the field for a few minutes and then we had some time to wait. I asked the Cardinals staff if there was a place I could practice. I just wanted to calm my nerves. I went into the hallway and practiced throwing a few pitches with Marc Gewertz who is one of the National Dragster photographers. I am so glad he helped me out. It calmed me down and he gave me some good pointers."
As Force took the field she thought about how her racing c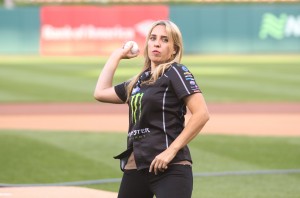 areer played a major role in not just affording her this opportunity but also putting her in position to make a solid pitch.Waving to the crowd, five-time Top Fuel finalist Brittany Force throws the first pitch – a nice straight pitch right to catcher Travis Tartamella a recent call up by the Cardinals.
"I think the biggest cross-over from racing to baseball was the importance of practice. I get in my race car for about ten minutes before we run and I just go over my routine. Going through the motions just makes me more comfortable. That is the same process I did for the game last night," said Force.     "Everyone with the Cardinals was so nice. Will Patterson from the Cardinals let me get down on the field earlier in the day. He said the Cardinal fans would be awesome and he was right. Some time you climb in your race car whether it is first round or final round and there are some runs you are so nervous but I just tell myself it will be over in four seconds. You just have to do the best job that you can. The pitch turned out really well."