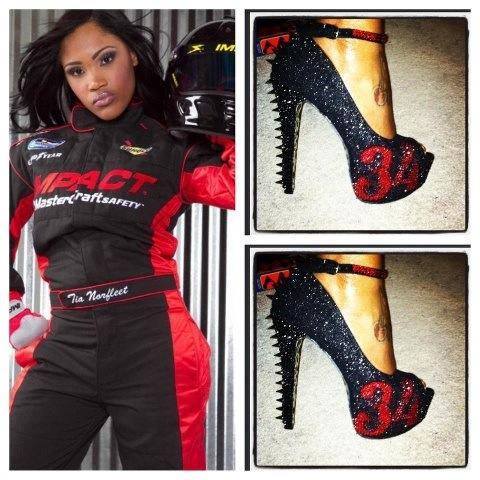 Aspiring NASCAR driver Tia Norfleet shows off her Horsepower & Heels
Check out the fierce custom heels of aspiring NASCAR driver Tia Norfleet.  The heels match her racing livery and even have her number on the side of them.    Tia is making waves in the racing world as NASCAR's first female African American driver.
Learn more about Tia Norfleet at http://www.tianorfleet34.com/ and look out for more to come on this young, ground-breaking upstart.  She continues to push for more NASCAR opportunities.
Wanna get in on the action?
Help us get the Horsepower & Heels word out! Just pick up a Horsepower & Heels decal, take a Horsepower & Heels inspired photo, or some other Horsepower & Heels merchandise from the E-Store and send us a picture!