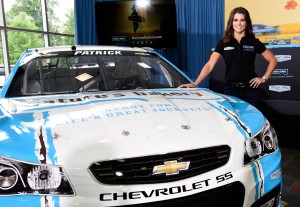 NASCAR's Danica Patrick just announced a multi-year sponsorship agreement with Nature's Bakery, a rapidly-growing snacks and food brand headquartered in Reno, Nevada, to join Stewart-Haas Racing (SHR) as primary sponsor of the No. 10 team in the NASCAR Sprint Cup Series beginning with the 2016 season.
The agreement will see Nature's Bakery and its signature tagline, "Energy for Life's Great Journeys", on board Patrick's No. 10 Chevrolet SS for 28 races per year.
Nature's Bakery was founded in 2010 by the father-and-son duo of Dave and Sam Marson with a mission of making delicious, convenient, on-the-go snacks that complement health-conscious living and active, everyday lifestyles. Their lineage in the food industry can be traced back to the 1960s when Dave's father, Richard Marson, opened a family bakery. Growing up in the bakery, Dave passed his passion and skills along to his son, Sam, whereupon the two combined their knowledge and entrepreneurial spirit to form Nature's Bakery.
"Danica Patrick is one of the most fit and health-conscious drivers in all of racing and she embodies the Nature's Bakery customer," said Dave Marson, founder of Nature's Bakery. "We make great products that complement Danica's lifestyle and the always on-the-go environment in which she competes. Nature's Bakery provides 'Energy for Life's Great Journeys' and we're very proud to embark upon this NASCAR journey with Danica and Stewart-Haas Racing."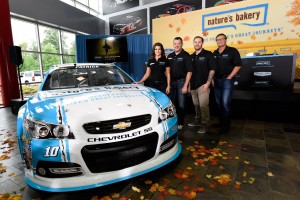 Patrick is one of the most recognizable athletes in motorsports and the most marketable personality in NASCAR, statistics derived from Repucom's 2015 Davie Brown Index. Her success on the racetrack, which includes an IndyCar Series victory and a Daytona 500 pole, transcends her into the mainstream household, proven by a 2014 Harris Poll which named Patrick the second-most recognized female athlete in the United States, behind only tennis star Serena Williams.
"It's an honor to represent Nature's Bakery and also a great deal of responsibility," Patrick said. "They have ambitious goals and they're going to rely on me and everyone at Stewart-Haas Racing to deliver. I have ambitious goals too. It's why I came to NASCAR and, specifically, to Stewart-Haas Racing. There's still a lot I want to achieve in this sport and I'm looking to continue my professional journey with a brand as determined as I am."

"All you need to say is 'Danica' and people know exactly who you're talking about," Dave Marson added. "She has immersed herself and succeeded in a very intense sport and been recognized for her efforts. By offering convenient, easy-to-find and affordable products that people can feel better about eating, we've carved a niche for Nature's Bakery in the fast-growing, packaged snack-food industry. With our partnership with Danica and Stewart-Haas Racing, we're able to take that niche mainstream."
Danica Patrick has 6 top-ten finishes in her 4 year Sprint Cup career, including a pole at Daytona out of the 104 races she has entered.  She currently is ranked No. 21.
"Danica has proven she belongs in the NASCAR Sprint Cup Series and we're very happy to have her a part of our team for years to come," said Tony Stewart, co-owner of Stewart-Haas Racing with Gene Haas, founder of Haas Automation, the largest CNC machine tool builder in North America. "Nature's Bakery is a natural fit with Danica. She has played an important role in the growth of all the businesses associated with her and our growth as a race team. Our partnership with Nature's Bakery is all about growing their business. In Danica, we have the best possible person to help Nature's Bakery achieve its goals."