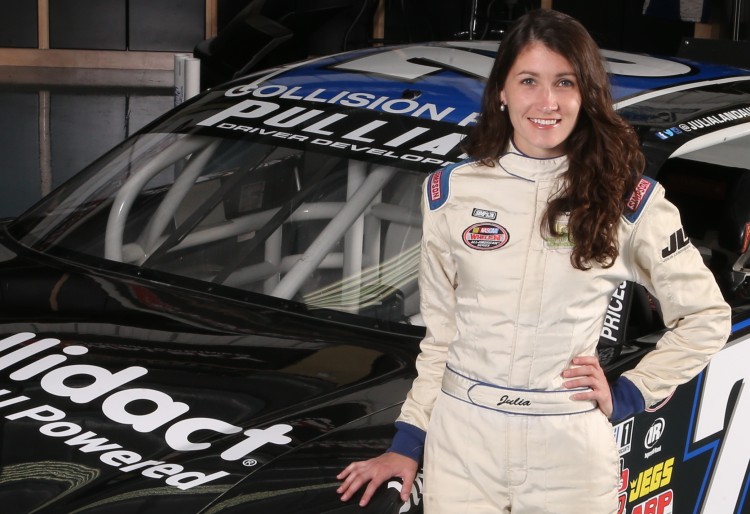 Julia Landauer announced today that she will be joining the Bill McAnally Racing lineup in the NASCAR K&N Pro Series for 2016.
24 year-old Landauer has already built a diverse racing resume that includes a NASCAR Whelen All-American Series championship this past season in the Limited Late Model division at Motor Mile Speedway in Radford, Virginia.
Julia – who is originally from New York City; but currently resides in Charlotte, North Carolina – joins a BMR driver lineup that includes Chris Eggleston, Todd Gilliland, and Riley Herbst. Plans call for all four drivers to run the full schedule in the K&N Pro Series West, along with select events in the K&N Pro Series East.    This will mark her rookie debut in the NASCAR K&N Pro Series.
"It's great to have Julia join the BMR team, as she moves up to the K&N Pro Series," said BMR President Bill McAnally. "She has experienced success in a variety of racing venues and we want to provide her the opportunity to continue that success at this level of competition. We look forward to working with her again and anticipate an exciting season ahead."
Landauer returns to the Bill McAnally Racing team for the first time since 2009, when she competed in a handful of NASCAR Whelen All-American Series Late Model races for the race team at All American Speedway in Roseville, California.
"I couldn't be more excited to be racing in the K&N Pro Series with Bill McAnally Racing," Landauer said. "Bill and I have worked together in the past, so I'm really looking forward to building on that relationship for a great team dynamic this year.  After a track championship in 2015, it's time to carry that momentum into 2016.   BMR is a successful, hard working group of people who produce top-notch equipment and I can't wait to get on track for the first race. A huge thank you to all of the partners who helped make this season come together."
Landauer began her racing career at the age of 13, competing in the Skip Barber Racing series in 2005.   The following year she ran the full series and became the first female champion in the history of the series, scoring 12 wins.
Her diverse racing resume also includes experience with Formula BMW in 2007, Ford Focus Midgets in 2008, late model events with BMR in 2009, select late model races at South Boston (Virginia) Speedway in 2010/2011, and partial seasons in Legend cars from 2012 to 2014. She became the first woman to win a NASCAR track championship in the Limited Late Model division at Motor Mile Speedway in 2015.
Away from the track, Julia Landauer has been busy as well.  She graduated from Stanford University in 2014, with a bachelor's degree in science, technology and society.  She also took a short hiatus from racing in 2012 to be a cast member on the television series "Survivor" , where she made it to day 19 before being eliminated in the season that aired in early 2013.
An advocate for women in sports, Julia campaigns to inspire education in the field of science, technology, engineering, and mathematics.