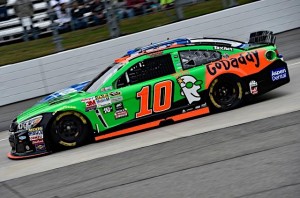 NASCAR star Danica Patrick was assessed a behavioral penalty by NASCAR officials for deliberately wrecking David Gilliland during Sunday's Martinsville race.  The move was apparently retaliation for contact made earlier in the event, when Gilliland pushed the No. 10 car of Danica up into the wall.
Danica later responded by trying to return the gesture, instead spinning and creating a caution, where she waited for Gilliland to come back around  before tagging him from behind again, causing extensive damage to both vehicles and ending her race.
The bad blood between the two racers dates back several years, as they have feuded on-track since her debut in 2010.  Patrick feels that Gilliland intentionally targets her in the middle of the pack.
NASCAR levied a $50,000 behavioral fine for her actions, also deducting 25 driver points for the violation and placing her on probation until the end of the year.   Patrick's Stewart-Haas team have not filed any appeal on the incident.