When you are a head-strong twenty something with big racing dreams, the idea of setting down permanent ties in one location isn't very high on the list of priorities.   I always felt that buying a home would mean I didn't have the flexibility to act immediately when that big break finally came for me to chase my professional full-time racing dreams.
But this theory began working against me in my racing career quite a few years back, when the new build project was split and separated between three states: the chassis kept at one location, the bottom end in another location, and the upper engine assembly in yet another.  Without large sponsor dollars to pay for someone to manage the program, it leaves a lot in the hands of myself and faithful volunteers to make progress.   Progress that just can't be made while spread out across the southeast.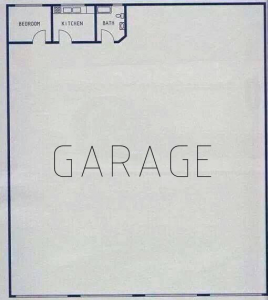 After squaring away some of the other roadblocks that have kept me sidelined, and passing some other great life milestones as well, it was time to take the big step of planting roots in Tampa and home ownership.   As a first-time buyer, I was completely clueless in the process.  But we found a helpful realtor and set to work on finding what we thought was a pretty standard set of requirements in early February:   a HUGE GARAGE, with attached room to sleep, bathe, and eat occasionally.
Building Horsepower & Heels HQ
Much to my surprise, that is just something that is NOT found in Tampa.  We had a hard time even finding houses with a 2 car garage, and so our search evolved into finding a small house, but with enough room to BUILD a garage-mahal.      We searched. And searched.  And drove in circles.    The market in Tampa is so fiercely competitive, that as soon as listing hit, they were under contract.    Because of the added pressure of confirming if the property we were interested in had building limitations by the city, we had to make many trips to the Building Permit office before an offer could be made.    We found ideal locations, but they were under contract.   We'd find ideal lots, but they were in an unfavorable section of town for us.   We'd find big back lots, but inaccessible from the street.    I fell in love with Bungalows, until I put an offer in on one and found out through a costly inspection that the termites had eaten 80%+ of it.    Finally, like they said, I found "The One".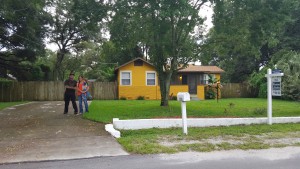 It was cute little house in West Tampa, good neighborhood, and a great little yard with room to put a fairly big shop with access directly from the driveway.   We put an offer in at the beginning of April, and they accepted.   I held my breath through the entire inspection, and it came back in great condition.  We ironed out all the particulars at the Building Permit office, and got the green light.  And then we began the lending process…..   I won't get into the ugly details in this post, but it was the most stressful and challenging time of my life, and not because of my credit or any reason on my end.
Finally, at the end of July, after 5 extensions, a ton of extra cash, misunderstandings, and it almost falling apart several different times, it was finally OURS.  It took a lot of determination, many sleepless nights, and learning more about real estate and construction than I ever cared to know, but I was able close on the house WITH construction loan to build the new HORSEPOWER & HEELS Garage.    This will mean that finally the racecar and my entire operation will be under one roof again, and I will be able to go outside and get to work on getting it back to the track.   This was one of the BIGGEST roadblocks of the return, and we are now one step closer.
As challenging as the whole experience has been to get to this point, there is much I want to share with my friends and fans about what building a Racer's Garage looks like.   There are all kinds of things I had to learn in the process, and I figure my experience might help some other racer's land their dream garage too.   So, I'll be sharing the details with you here, leading up to our shop-warming party once its done!
Stay tuned for Part 2:  A Racer's Garage coming next….