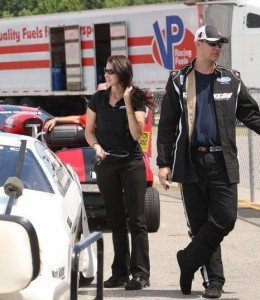 Cale and Tinzy Aronson are two of the hardest working people I have had the pleasure of meeting in the drag racing world.  I originally met them back in the Fun Ford Weekend days, when they were just dating, and was always proud to see how far they had come, both as a couple and in the Pro Stock ranks.
A few weeks ago, I got an opportunity to chat with them at the Bradenton IHRA race, where they were competing in Pro Stock.   We caught up and reminisced some on the Fun Ford Weekend days, and discussed some ideas for the possibility of a Fun Ford Reunion.
Sadly, just one week later, on April 25th, at the IHRA Palm Beach Nationals in West Palm Beach FL's PBIR, Cale was involved in a terrible accident, with the car crossing the track and impacting the wall before rolling onto its roof and sliding down the track.    Initial reports were that Cale was alert and ok, but he was airlifted to the hospital and things got really quiet about his condition, until now.
Competition Plus.com just released the family's statement.    Cale has suffered some very serious injuries to his spine, and is recovering from surgery to fuse vertebrae damaged in the crash.   Good news is that he has tingling sensations across his body, showing there is connectivity, but is still limited on the amount of movement he has over his upper body.    For now, he must let his body heal before beginning a long road of therapy to regain his strength and mobility.
The family has had an outpouring of support from the racing community since the accident, and continues to draw on that strength during this difficult time.   The Gwynn Family (of the Darrell Gwynn Foundation) stepped in to provide the Aronsons guidance and support, having experience with Spinal Cord injuries.
Helping Cale Aronson and Tinzy
Cale remains in the hospital in Florida, surrounded by his family, all displaced from their Missouri home.    They will need support during this difficult recovery, helping them to offset the costs of his care and the family's accommodations in Miami.   Godspeed Ministry, the official chaplain for the IHRA, has set up a Bridge the Gap fundraiser for the Aronson Family to help defray medical expenses.
For anyone wanting to send the family care packages or get well notes, they can mail these to:
Bupa International Patient Services Center
DTC Building, Ground Floor Central 152 for patient Cale Aronson
1080 NW 19th Street
Miami, FL 33136
Details of the Crash
Cale remembers every moment of the crash, and vows to help make these cars safer upon his recovery.  All the details can be found on Competition Plus.   Please visit their story for more.