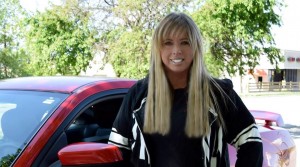 NMRA Driver, Bridgett Davis has many goals in mind when it comes to Drag Racing. Taking on her 2013 GT Mustang in the Roush Performance Super Stang class, she has high hopes to making it to the top or at least take on the top five entering into the 2016 season. After Bridgett's finances allowed her to pursue her love for Drag Racing, she would hit every track in a hundred mile radius whenever there was a Test and Tune. A friend suggested to her in 2014 that she should take on her first competitive competition for the Muscle Mustang and Fast Fords all female shoot out class of the NMRA.
I would follow this up with competition in local events and would finish out 2014 with a 2nd place finish in the 14 second class of True Street.Upon my completion of the the 2014 season I made the decision that I would make my rookie season appearance in the 2015 NMRA class of Super Stang."
With an index based format, she felt this class would serve as a good next step in her evolution. As her Mustang serves as her daily driver, Bridgett needed to enter in a street legal class. Finishing out in an 18th place point finish out of a 41 driver roster for the year, she felt good about her overall first season.
Fast cars always honestly attracted me. Something about them. The power, the sound, the speed. Growing up in Indianapolis, Indiana from an early age most weekends were spent cruising, at the local car show, or at the track. I always knew someday I would take my passion for racing from the spectator perspective to behind the wheel."
Bridgett Davis Accomplishments
2nd place finish in 14 second class of 2014 NMRA Bowling Green Kentucky
2015 NMRA/ Super Stang 18th place finish out of a 41 driver roster
Personal Magazine Article and Radio Appearances:
2013 December Issue of AFX Magazine
2014 Win A New Mustang Book Publication
2015 March Issue of Mustang Driver
2015 February Speed Scene Live Radio
2015 June Heals On Wheels Radio Appearance
I also hope to begin to venture into oval track racing as well as a run in the upcoming 2016 Great America Road Rally." 
 Being A Woman Of Motorsports
Venturing her first time into racing, Bridgett had felt very intimidated by the other woman. She never realized how many woman were into Motorsports. As she befriended Stacy Lynn Butler, "Stacy took me under her wing and began to show me the ropes. She was happy to help and without her I could have not made it through that first pass. She was patient and enjoyed helping me." Bridgett said.
I think staying humble and approachable is so important. We can all learn from each other and help each other  up the ladder. Success in my mind is determined by how many you helped up the ladder. This is true measurement of personal success. If I have something to share with other females that can help them in their journey as others may have helped you, you should always share the wealth. Through TAG the online forum I assist in running, I am able to connect with many women via conversations and posts. We provide a forum in which women are able to come together, ask questions and share experiences.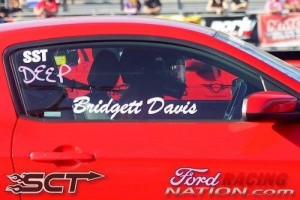 The great thing about cars is there are so many aspects you can take an interest in. With the varies of forums and sites Bridgett's been involved in or worked for. Taking the opportunity now to pay a little of that back to other women, whether they have a question or need some advice. Bridgett says, "I try to be there to assist in whatever way I can. If I cannot help them I make sure I direct them to someone who can. I don't seek to be a role model just a friend to other girls in the scene." While continuing on Bridgett's love for Drag Racing, she also has great support from her loving family and friends.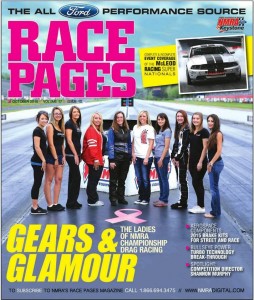 Never come into anything with an attitude or thinking you know everything.  As the newbie it is important to stay humble and know you are the student. The more information you have the more skilled you become with each pass. Everyone has an experience or story to tell you can learn from."
Fellow Sponsors