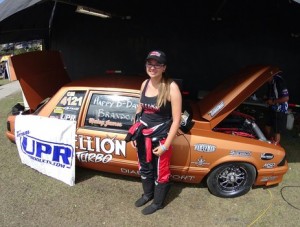 NMRA Rookie Sensation, Haley James, landed her third win of the 2015 season at the 17th Annual Nitto Tires NMRA All-Ford World Finals.     The first-year driver has appeared in all six Coyote Modified finals of 2015, dominating the competition all season long.    With half the class victories to her name, there was no questioning Haley James Coyote Modified Champ in 2015.
Fairy tale Rookie Season for Haley James
Haley James began her fairy tale season stepping into a brand new Coyote Modified (CM) Hellion Turbo prepared fox body coupe.   Her prior racing experience limited to just a year in the junior dragster ranks when she was twelve and some time behind the wheel of her turbocharged fox-bodied Mustang on the street, the busy high school senior attended Frank Hawley's Drag Racing School to earn her NHRA Competition License so she'd be ready for the season opening event.   Haley's first time in the car came just a day shy of her Bradenton debut, where she wasted no time setting low E.T. of the event en route to a runner-up finish in her first ever drag racing competition at the National Mustang Racers Association (NMRA) Spring Break Shootout event in Bradenton, FL.
Her first career win would come at just her second event, the 7th Annual Borla Exhaust All Star Nationals held at Atlanta Dragway in Commerce, GA, where she raced into the Aerospace Winner's Circle for the first time against NMRA veteran Johnny Lightning Wiker.
During the 15th Annual SCT NMRA Ford Nationals in Budd's Creek, Maryland, Haley again made it to the final round of Coyote Modified competition, this time against Ronnie Reynolds.   Though she had the performance advantage over Reynolds, who was campaigning his wife's street car for the event, an error at the tree cost her the race.    A staging battle on the starting line would rattle James, and she wound up leaving before the tree activated.
Between races, Haley would return home for her graduation commencement ceremony from Albuquerque, NM's El Dorado High School.   And as summer racing action heated up, the new graduate would really hit her stride as she transitioned into college studies at the University of New Mexico.
Her second career win would come at the 12th Annual McLeod NMRA Super Nationals event at Summit Motorsports Park in Norwalk, Ohio.   She again faced familiar foe Johnny Lightning Wiker in the final, where she improved her record against the multi-class champion racer when a broken throttle cable caused him to shut off early.  She would leave the event leading in points.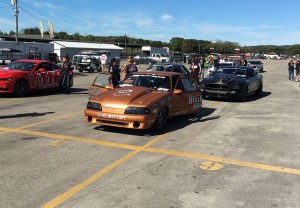 Haley James would continue the hot streak into the 10th Annual NMRA/NMCA Super Bowl of Street Legal Drag Racing at Route 66 Raceway in Joliet, IL.   She would battle it out again with Johnny Lightning in their fourth final round meeting of the season, taking her third career victory, and scoring a Super Bowl ring for her part in the NMRA's victory over the NMCA.
That all lead up to the final race of the season, the 17th Annual Nitto Tires NMRA All-Ford World Finals at Beechbend Raceway in Bowling Green, KY.  Another rain soaked event, that didn't meet its conclusion until Monday morning, where it would be an all-too familiar final between class rivals Johnny Lightning and young Haley James.   This time, the weather and lack of passes would mean that Haley's dad, Dwayne James wouldn't have much data on the tune for the final round in the colder, damp weather.    Unfortunately, James would smoke the tires, giving her competitor Wiker the last win of the season.
#1 in Coyote Modified Points
Despite the runner-up finish, Haley had scored enough points to earn the top spot for the 2015 Coyote Modified class championship.   She becomes the youngest Coyote Modified Class Champion in NMRA history, and carries the honor of wearing the No. 1 on her window as the class champion into 2016-  All as a rookie to heads-up drag racing.    The young driver has proven quite a talented protege of the Hellion B-Team, and if this rookie season is any indication, she's just getting warmed up to a long, successful drag racing career.
Congratulations, 2015 NMRA Coyote Modified Champion, Haley James!