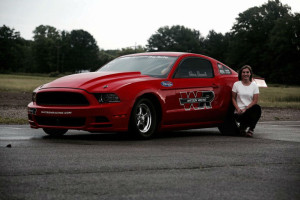 Leaving 2015 behind and getting close to a new season, Valerie Clements takes on her 2005 and 2014 Mustangs, both entered in the NMRA & Renegade classes. As she becomes familiarized with tuning her own cars, Valerie has high hopes in winning a Renegade class for 2016. With there being few women in her class, she was asked how men in her class treated her on and off the track. Valerie says, "It's almost like having a lot of big brothers around! It's really cool how much you can learn just by going around and talking to the people in your class." Valerie is ready, willing and focused to bring home that win!
I'm 22 years old, I have a family that loves constantly thinking about and doing racing."
Valerie Clements Meets Drag Racing
Finding her love for drag racing at such a young age, Valerie can't recall her first time at the race track but says it's probably because she was around a year old. She remembers times from her JR Dragster days when her father and uncle would take their Mach 1 to Alanta Dragway, attending on Saturdays for the open trailer bracket race event. Valerie says she would help work on the car before each round.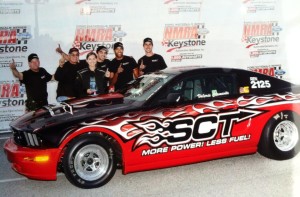 I knew I wanted to race when I would be on the starting line with my mom and dad while my brother made run in his JR Dragster."
Valerie took on her brothers JR Dragster at just 8 years old. When he received a new one, the tradition continued on as he would eventually grow out of the JR Dragster. Valerie competed in the JR dragster program until she was 18 years-old. Her father purchased a 2005 Mustang when she turned 17 from the Sutton Ford in Chicago, which was the NMRA Renegade championship car in 2008 with Bob Cook as the driver.
I couldn't wait to get in the car and learn about the world of fast door cars. It was a little intimidating at first, I wont lie. But how could it not be intimidating when there are a bunch of switches and buttons you're not used to and want everything to go perfectly fine."
 Accomplishments
NMRA 2012 Rookie of the Year
NMRA 2013 Renegade Event Winner at Maryland International Raceway
NMRA 2015 Ambassador of the Year
Family Support
When it comes to Drag Racing, it's like one big family. Everyone is competitive but by the end of the day we are all there for each other. Valerie not only gets the support she needs from the fellow racers, but from her family too. Having her father and brother do everything from putting the engines together, to fabricating the intercooler systems, to driving the trucks and trailers to the racetracks. "You name it they've done it. They have even swapped out my motor, twice might I add, overnight for me after blowing an engine." Valerie says.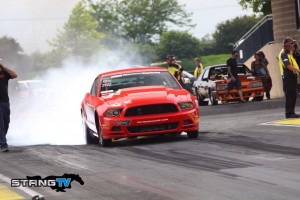 A two car team takes a lot!! Sometimes my cousins, uncle, and aunt get to make it to our races. That's where the real fun is. We're all together, working in harmony on these cars and it makes it that much more satisfying when one of us ends up in the winner's circle or makes a good hit."
Catch up with Valerie Clements on her Facebook Page:  https://www.facebook.com/valerieclementsracing/