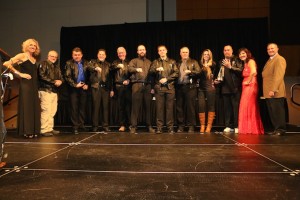 Capping a monumental season that saw her first-ever heads-up drag racing competition, first event win, a trip to all 6 event finals and her first National Mustang Racers Association class championship, it is no surprise that drag racing upstart Haley James would be shoe-in for the NMRA's Rookie of the Year honors.
It seems like just yesterday we flew to Bradenton where I'd let go of that trans-brake for the first time and feel that addicting adrenaline rush that we're all too familiar with," said James of her whirlwind season.
At the annual NMRA awards ceremony, held  in conjunction with the PRI show in Indianapolis, Haley James would take the stage to claim her Coyote Modified Class Championship recognition for a dominant season in the CM class.   James, who scored 3 event wins and appeared in all 6 event finals during the NMRA season, earned the top points total with her fox-bodied turbocharged, Coyote-powered coupe.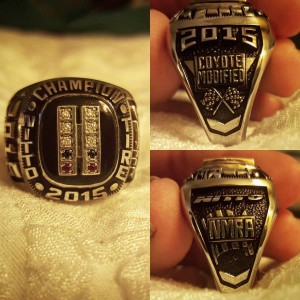 She would also receive the coveted special Nitto Class Championship ring, a jewel encrusted drag racing Christmas tree class ring traditionally bestowed onto each NMRA class champion at the close of the season to celebrate the honor.
NMRA Rookie of the Year Haley James
The Hellion B-Team would continue to rack up trophies in the special award categories.   Haley's father and crew chief, Dwayne James, would receive the Crew Member of the Year award, beating out other nominees Susie Wiker and Bruce Hemminger.
None of this would have been possible without my team and their unequivocal dedication, my dad especially, for not only funding everything but also for being the most bad-ass tuner ever."   
And it would be tough to argue with the selection of NMRA's new Rookie of the Year Haley James, who claimed the award over nominees Steve Daniels and Ryan Jones.
I never thought I'd see myself in Race Pages, or Drag Illustrated, or standing here, not only with the title of 2015 Coyote Modified Champion, but also 2015 Rookie of the Year."
2016 plans for #1 Coyote Modified Champ
What's next for NMRA Rookie of the Year Haley James?   Will she return with the #1 on her window next season to defend her title in Coyote Modified?  Or perhaps take her shot at moving up the ranks into another NMRA class?
The future isn't decided yet.  James stated that her and her Hellion teammates are awaiting the outcome and official announcement of 2016 NMRA rule changes before solidifying their 2016 race plans.    Could we see the new hot shoe champ return to defend her dominating championship run or perhaps take on a new challenge, moving up and seeking a rookie debut in another class?
One thing is for sure, we have only seen the beginning of Haley James's drag racing career.
Leave a comment below to congratulate NMRA Rookie of the Year Haley James!