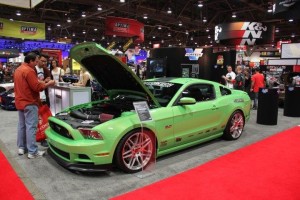 The world of drag racing all started for NMRA driver, Nikki Frost, in the summer of June 2012.   Nikki was given a great opportunity from Vortech Superchargers to use her 2013 Ford Mustang GT for their V-3Si kit and SEMA 2012 booth car.    Nikki's new ride would serve as both a race car and her daily driver.
There is no way you can pass an opportunity like that up! I drove my new Mustang with less than 500 miles on it from Philadelphia, PA to Oxnard, CA in July 2012 and I have never looked back."
With her new Vortech equipped Stang, Nikki worked on establishing herself in the community to honor her commitments to her sponsors.
I focused heavily on showing the car at car shows in 2013 where it was well received. In June 2014, I ran my first sanctioned race at the NMRA All-Female Shootout in Norwalk, OH and was lucky enough to secure the Runner-up spot! This was followed in June 2015 with another NMRA All Female Shootout Runner-up placement. Hopefully my winning streak continues in 2016, but just having the opportunity to race with my husband and our good friends is enough for me."
Her Mustang has been a SEMA booth car twice, featured in numerous publications, and is the perfect street-strip car for Nikki.   She feels beyond blessed for the opportunities that have been presented to her and the experiences are worth everything to her.
Nikki Frost at Frank Hawley School
This February, I had the honor of attend Frank Hawley's Drag Racing School in Gainesville, FL. It was hands down the best choice I've made so far with drag racing. He teaches the fundamentals as well as advanced techniques that are essential to being a good drag racer. Huge thanks to Frank Hawley, Jimmy and the crew for providing us with the essentials that we need to be successful, educated drag racers! The experience was invaluable – I would highly recommend this school to any drag racer."
Q&A with Nikki Frost:
When did you know, that racing was what you wanted to do?
Photo: Ford Racing Nation.com

Racing has always been my heart. It wasn't until I met my husband that I was introduced to the wonderful world of drag racing. The love affair with the track started and the speeding tickets and street racing stopped! Well, mostly. There is nothing better than the thrill of competition and the adrenaline of lining up at the light and letting it fly."
When it comes to being a Women in Motorsports, do you feel you've made an impact?
The way that I feel that I have made an impact on other women in the Motorsports industry is by being able to succeed with only a dream and my car. I have worked hard for everything that I have and will continue to work hard. Nothing will be handed to you, you have to go out and get it yourself, and I would like to think I have empowered other women to follow their dreams as remote as they may seem at the time. Females in the Motorsports industry are surprisingly supportive of one another. You will have your "haters" which happens no matter what you do but not everyone has to like you. Some of my best friends in the industry have come from my first race which proves that women can build each other up and have a great support system even when in a competitive environment. Every woman that I have met in the Motorsports industry has impacted me in some way and I hope that I have positively impacted others as well."
Who are your biggest supporters?
My biggest supporter is my husband! He is perfectly content sitting back and helping me race even though he is a racer himself. Without him none of this would be possible. My sponsors are amazing to work with and I am fortunate to not just have business relationships with them but friendships as well. My firm is undeniably supportive and allows me the opportunity to pursue my dreams while still advancing my career. The friends that I have in the car community are second to none, car people are the best people! A huge thanks to everyone that has helped me get to where I am today and continues to support me in my future ventures, I couldn't do it without you!"
Accomplishments for Nikki Frost
Runner-up finishes in the NMRA All Female Shootout in 2014 and 2015.
Nikki Frost's Sponsors