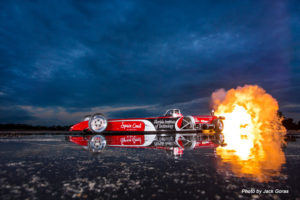 Palm Bay, Florida based Jet Dragster Super Team, Larsen Motorsports announced they have aligned with the Space Coast Tourism Office in order to help promote tourism and careers on Florida's Space Coast in 2017.
Florida's Space Coast is a family-friendly destination located 45-minutes east of Orlando. Encompassing Cocoa Beach, Melbourne & the Beaches, Port Canaveral, Titusville, and Palm Bay, it is home to the world's second busiest cruise port and 72 miles of beaches, the longest stretch in the state; as well as 190,000 acres of wetlands and waterways full of habitat found nowhere else. Plus, Florida's Space Coast is where rockets still soar into orbit from Kennedy Space Center.
Larsen Motorsports fields a 3-car exhibition jet dragster team at over two dozen premium venues across the country – from drag racing track locations, tradeshow venues, corporate appearances and more.
As our teams travel across the country, we have the opportunity to help promote Florida's Space Coast to a multitude of people" said Chris Larsen, co-owner of Larsen Motorsports, "Our vehicles and staff directly represent a large number of the initiatives Brevard County wishes to promote. With our teams' home right here on Florida's Space Coast, Larsen Motorsports is perfectly positioned to help deliver the Space Coast Office of Tourism message to a very large audience across North America."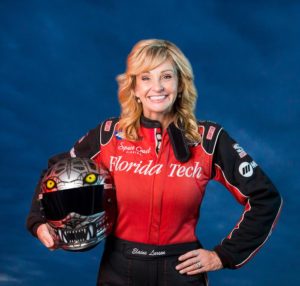 Elaine Larsen, co-owner of Larsen Motorsports and driver of the Florida Institute of Technology Jet Dragster, has made incredible contributions to not only the drag racing community – helping to train many young dragster pilots such as Kat Moller, Shea Holbrook, Kat Redner, Allison West, Marisha Falk, and many other ladies in the sport; but also on the crew and engineering side with their Jet Developmental Center focused on hands-on training in jet car engineering, fabrication and more. Elaine holds several World Championships in the Jet class, aided by her crew chief Paige Sanchez. Larsen Motorsports has been known previously as the "Fastest Girls in Town" for the team's strong history of helping advance women in motorsports. Their emphasis on training and development, research and hands-on engineering/fabrication advancements reflects their highly successful partnership with the Florida Institute of Technology and their dedication to giving back to the sport and their local community.
"I am so excited about this newest partnership!" said Elaine Larsen. "When I am not racing, it is good to come home to Florida's Space Coast, where there is always something to do. This paradise may be home for me, but a destination for others to enjoy as well."
For more information, contact the Space Coast Office of Tourism at (877) 572-3224 or VisitSpaceCoast.com.