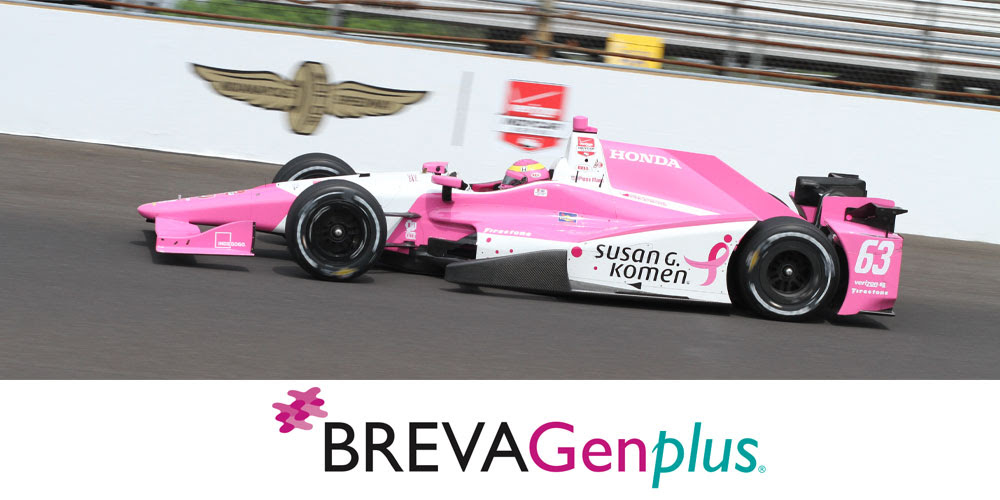 Verizon IndyCar Series driver Pippa Mann just announced a partnership with Genetic Technologies Limited (NASDAQ: GENE), a molecular diagnostics company specializing in women's health, to promote their BREVAGenplus® first-in-class, clinically-validated risk assessment test for non-hereditary breast cancer.
This new partner for Pippa Mann is another advancement in her ongoing efforts and commitment to breast cancer prevention.  This season will mark the third year Pippa has supported and partnered with Susan G. Komen®, the world's largest breast cancer organization.
A new partner for Pippa Man in fight against Breast Cancer
Driving a pink and white race car adorned with the Susan G. Komen livery for the past two Indianapolis 500 races, Pippa has raised awareness and funding to support the cause through her IndyCar activities.  Pippa is an ambassador for women's health with several organizations and is active both nationally and locally in her support of Komen.
I am thrilled to be able to represent another group that is committed to helping end breast cancer by partnering with Genetic Technologies," said Pippa.  "It is fantastic to be able to represent such a game-changing product in the women's health space.  I am looking forward to helping raise the profile of BREVAGenplus® through the exposure that comes with IndyCar and the Indianapolis 500."
By promoting BREVAGenplus® , Pippa hopes to promote and bring awareness to this fantastic risk assessment test and the benefits of early-detection, giving women over the age of 35 the power of informed decisions towards preventative care and treatment plans.
The associate sponsorship agreement between Pippa and Genetic Technologies will consist of apparel representation, participation at BREVAGenplus® oriented events and speaking engagements, social media, print and video campaigns, and related sales support activities.  Pippa plans to use this new partnership in her efforts at the 100th running of the Indianapolis 500 on May 29, 2016.