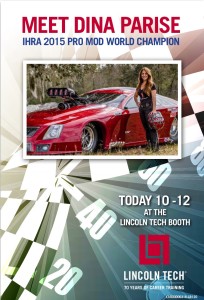 Special guest and IHRA Pro Mod driver, Dina Parise will display her championship-winning Cadillac Pro Mod "Stella" at New York International Auto Show 2016.    Held at the Jacob Javitz Center, the New York International Auto Show showcases the latest automotive trends, new designs and other automotive innovation.
Dina Parise will showcase her award-winning 'Stella' the 3,000HP Pro Mod Cadillac that earned her the 2015 IHRA Pro Mod Championship as part of the Lincoln Technical Institute booth (1E Hall).   Parise will be in the booth for photos and autographs on Wednesday, March 30th from 10AM to 12PM.  
A regular partner with Dina Parise Racing, Lincoln Tech's accelerated career training programs help mold the future of students. Their education and training programs cover a large variety of fields in six disciplines: Automotive, Skilled Trades, Business and IT, Cosmetology, Health Sciences, and Culinary.
I am thrilled to be appearing at the New Your Auto show along with Lincoln Tech for many reasons.  Their career training programs are second to none," said Parise. "They believe in pushing people to following their dreams. Lincoln Tech speaks to what people are passionate about, and encourages them to expand on it. That is surely a recipe for success in my book!"
The Lincoln Tech booth is part of the 2016 Automotive Career & Education Fair at the New York International Auto Show.   The New York International Auto Show's Career Fair brings carmakers, suppliers, and advanced automotive training programs together so candidates can learn about careers in the automotive industry.
Parise will also speak at the National Awards Banquet, the awards ceremony that recognizes winners of regional and state contests held to determine the nation's best automotive students. The winning student teams will be at the NYIAS to represent their state at the national finals. The National Automotive Technology Competition will take place on Tuesday, and winners for the title of The Nation's Best Automotive Technician selected at the banquet ceremony.
I am honored to have been asked to address these talented students at the Awards Banquet," said Parise.  "I'm looking forward to giving them some insight into my life and how I made my way into the automotive industry. I will convey to them that it was not always an easy road but in the end it was completely worth it! I don't ever want them to give up."