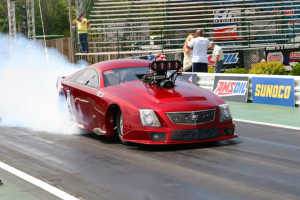 IHRA Pro Mod World Champion, Dina Parise is set to appear on an upcoming episode of Power Nation TV with her 3,000 horsepower Pro Mod Cadillac CTS-V "Bella" and husband/crew chief Andrew Parise.   Show host Katie Osborne will talk to the newly crowned champion about her transition from Ice Capades star to Drag Racing Champion.
New Sponsors: Lucas Oil and Eastwood Company
Excitement builds for Dina Parise on Power Nation TV as the team recently welcomed new sponsors Lucas Oil and Eastwood Company for the 2016 season, and will be debuting the new additions to the car/team on the show.