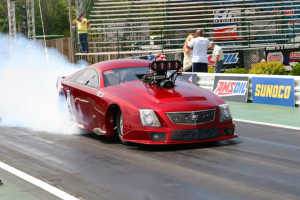 Pro Modified drag racer, Dina Parise, qualified No. 1  on the way to her first final round appearance of the season at the IHRA Nitro Jam Summer Nationals this weekend in Cordova, Illinois.
The former professional Ice Capades skater-turned racer from New Freedom, Pennsylvania posted a 6.913 second elapsed time at 154.35 mph to secure the No. 1 qualified position in the Crower Pro Mod class on Friday in her blown 2013 Dian Parise Racing Cadillac CTS-V, a car she endearingly nicknamed 'Stella'.   Dina and her team debuted the Cadillac at the Bradenton IHRA event in April and have been working out all the new-car bugs since, with steady improvements.
Rain delay gives Dina Parise Competition Bye into the Final
On Saturday, rain hit Cordova International Raceway, cancelling the scheduled Saturday eliminations, and forcing racers and fans to stay over into Sunday.  Because of a short field in the Crower Pro Mod class, Dina would take the tree for a competition-bye right into the Final round.  She would face the 1970 Camaro of  Ruben Tetshovili for the event title.   Tetshovili would leave first, and stay out front for the win, defeating Dina's  7.560 second elapsed time at  134.55 mph with a 6.963 second, 163.16 mph timeslip.
Dina is currently 5th in the Crower Pro Mod for the IHRA Nitro Jam championship points chase.