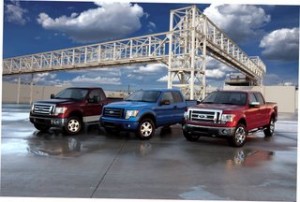 I just got back from Detroit, Michigan as a guest of Ford at their newly renovated Michigan Proving Ground Facility. The event: a week-long media launch for the new 2009 F-150.
I've never been to a media launch before, so this was definitely a new and fun experience for me.
The event started off for me with a 50 mile road test drive of the current F-150 to a dealership, where Ford had many of the new 2009 F-150's waiting in all types of available combinations. With 7 trim packages, 3 engine options, 3 box options, and 3 bed options, there are more combinations to choose from than I could possibly begin to discuss. So I started off with a basic XLT extended cab, and headed out with a Ford engineer to experience the truck first hand.
REFINEMENT.
The first thing you notice in the new F-150 is how quiet and smooth it rides. At idle, it doesn't feel or sound like its on, which for me, means I'm very glad it has a safety switch on the starter to keep you from trying to start an already running car. Its THAT quiet! Refinement was high on the list for the new F-150, and they succeeded with great results. The truck doesn't drive like a truck anymore. The steering is smooth and responsive and the plush new interior makes the ride feel more luxury than utility. Gone are the vibrations felt through the steering and the harsh road ride. Its mild mannered ride makes you think more softy than built tough.
POWER.
With the 5.4L V8 boasting a healthy 320 horsepower and 390 ft. lbs of torque, it is a noted improvement over the prior model. The new 6 speed transmission makes power transfer smoother and keeps the healthy engine in its power band longer. There is also a new SFE model that boasts increased fuel mileage via a 4.6L 3V motor. Though I only tested the 5.4L models, the buzz from those that did try out the 4.6L were that there was little noted power differences… no more of the sluggish smaller V8.
DURABILITY.
Ford leads the market already, so how do you improve upon the best? The Ford Tough moto is something that its customers look for in their truck. With so much improvement made to the refinement to the truck, would the ultility suffer as a result? The answer is a firm NO. Ford was able to achieve a perfect trifecta, and still managed to make the truck lighter, and stronger than years prior.
FORD WORK SOLUTIONS.
Tool Link. Crew Chief. Cable Lock.
After completing our road test, we headed back to the hotel for a reception and presentation of a new fleet option system in
Ford Work Solutions
. This is a wonderful example of embracing the aftermaket and working to provide customers with affordable, factory supported real solutions to real world problems.
The packages are built with an on-board computer/blutooth keyboard/printer combo with high speed connectivity built in that allows a mobile office workstation and even remote access your office desktop. A great tool for contractors to streamline billing and other tracking measures directly from the jobsite. The computer also has built in Garmin Navigation and real-time traffic, weather, and gas pricing for fleet efficiency.
The new Tool Link system option takes efficiency to a new level, with the aid of RF Transmitters and RF tool tags. The RF transmitters located in the bed of the truck allow for tool tracking by communicating with the on-board computer. After a one-time set up, each tagged tool emits its own RF code, recognized by the computer to ensure that all of your tools leave with you after each job. With job-level grouping, it also ensures that your workers are geared up for the jobs they will be assigned for the day. The Cable Lock system allows an in-bed cabling system to secure all tools.
The beauty of the system lies in Crew Chief interface. Crew Chief acts as a mobile dispatch center, tracking location, vehicle speeds, idle time, fuel consumption and more on each of the fleet vehicles. The management system pairs with navigation to allow you to look up a job address and dispatch the closest truck (and if also equipped with Tool Link, the closest properly equipped truck) to your new jobsite.
The F-150 has made an excellent solution to the pressing needs of contractors looking to save in fuel economy and fleet management. With many business owners looking to downsize their fleet vehicles in size and efficiency, this is a vital new tool for small and medium sized fleets.
Up next, I get the chance to take the new F-150 onto the Michigan Proving Grounds for testing against the Silverado, Tundra, and Ram.