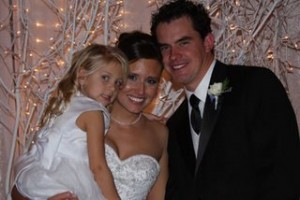 Congrats to NHRA Funny Car driver Ashley Force and Danny Hood, who tied the knot on December 13th in Lake Tahoe amidst a beautiful snowfall.
It was snowing on my wedding day and my photographers said they didn't care that we were going to go out and take pictures outside in the snow. I am glad they did that now but at the time I was freezing and I would have liked to have been in my firesuit. — Ashley Force-Hood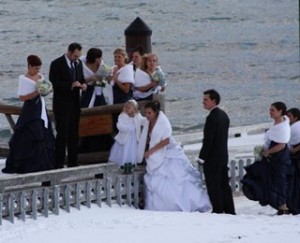 And what did the girl who is most comfortable in a 20 layer clutch-dust ridden firesuit and a helmet think of her billowy white wedding dress and formal attire?
It was kind of fun to wear a dress. I thought I might not like it as much as I did. I loved the dress I picked but I was kind of dreading being in a dress and heels all night. I was thinking this is going to stink and I am going to be so miserable and uncomfortable but I think that since it is your one day in your life that you do that you try and enjoy it. I snuck in and wore, not race boots but, Ugg boots kind of the same style. That made it a lot easier to take off the heels after a while and slip on those boots." –Ashley Force-Hood
*Shhhh!*
I wonder if she will now be Mrs. Ashley Force-Hood or if Danny will just be Mr. Ashley Force? Hmmm.
Congrats to the newlyweds from all of us here at Horsepower & Heels!
Photos: (top left) Flower girl and niece Autumn Hight, Ashley, and Danny. (bottom right) the Bridal party all bundled up and shivering for snowy wedding portraits