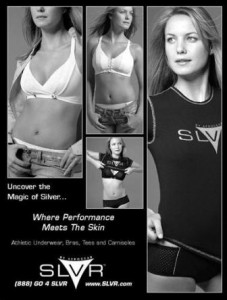 Horsepower & Heels is very happy to announce the addition of http://www.coolfitwear.com/ to the Horsepower & Heels team as an associate marketing partner.   Owned by another woman in motorsports, Sharon Banks, Cool Fit Wear sells performance athletic wear and undergarments using new technological advances.     Driver Erica Ortiz will wear the undergarments beneath her fire suit to stay cool and dry.
Essential Equipment
Designed for women and their sport, SLVR combines the optimum blend of technology and materials to create garments of maximum comfort and superior performance.
The magic of SLVR is Silver
Silver is known for its medicinal qualities, including burn treatment and the healing of skin. Those same qualities are what make SLVR unique. Actual silver is woven into our patented fabric creating a high-tech material that is soft, comfortable and eliminates odors before they start.
Moisture Transport
The fabric of SLVR is nylon/spandex/lycra which has been treated with a process that permanently changes this synthetic fabric into a cool, comfortable fabric that rapidly wicks and moves the moisture away from your body. You will stay dry and it will actually help regulate temperature. So when it's hot, SLVR keeps you cool and comfortable. And when it's cold, the same process keeps your skin dry, so you stay warm. Cotton holds moisture, rather than wicking it away — making it heavy, uncomfortable and prone to bacteria and odor. SLVR efficiently removes moisture so bacteria and fungus never get the chance to form.
Performance that lasts — The SLVR collection is engineered to perform as well in your washer as they are on your body. They are wrinkle and stain resistant. And their superior moisture control never washes out.
For more information or to order:
http://www.coolfitwear.com/