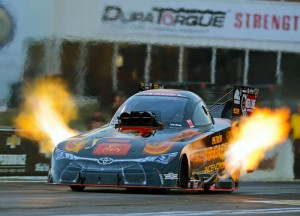 Alexis DeJoria still hunting for her 1st win in 2015
Drag Racing Funny Car driver, Alexis DeJoria and her Patrón XO Cafe Incendio Toyota Camry Funny Car team went into the 35th Annual Summit Racing Equipment NHRA Southern Nationals hoping to pick up their elusive first event win of the 2015 season. Unfortunately for three-time Funny Car winner, Atlanta Dragway would not become the dry-spell breaking victory for the Kalitta affiliated team.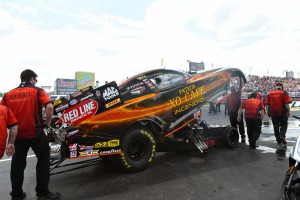 After qualifying in the No. 8 spot with their 4.064-second run from the second qualifying session, Alexis and the Patrón team faced No. 9 qualifier Ron Capps in the first round of eliminations on Sunday morning. The two went head-to-head in the final pairing of Funny Cars. DeJoria made a good clean run in her Toyota Camry, but her 4.091-second pass didn't stand up against Capps' 4.081-sec run, ending Team Patrón's day much earlier than they had anticipated.
It was a close race against Ron Capps. I really had a good feeling about this weekend but at least we don't have to wait long until we're back racing again. We'll be in Topeka, Kan. next weekend and we'll get back after it," said DeJoria, who has raced to two semi-final finishes so far this year.
The Kalitta Motorsports Patrón XO Cafe Incendio Toyota Camry Funny Car team heads to the midwest from Atlanta for the series' first back-to-back race of the season. They will enter the 27th annual NHRA Kansas Nationals, May 22-24, in 9th place in Topeka with 361 points.