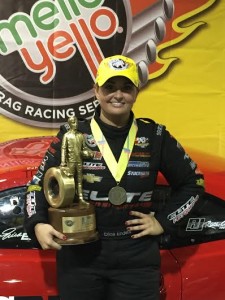 Reigning NHRA Pro Stock World Champion Erica Enders was just recognized as an ESPY nominee for the Best Driver category.  Awarded by sports network giant ESPN, the ESPY awards recognize individual and team athletic achievement and other sports-related performance during the calendar year preceding at the annual ceremony.
Enders nominated for ESPY in Best Driver category
Enders is in the running against Kevin Harvick from NASCAR, Juan Pablo Montoya and Wil Power from IndyCar and Lewis Hamilton from Formula One for the Best Driver award.  The official nominee announcement was just released today.
Everyone always says it is an honor to be nominated for an award like this, and that is absolutely the case," Enders said. "I am truly humbled to see my name alongside the greatest in the world, and I am honored to represent my Elite Motorsports team and NHRA at the ESPYS."
Enders had a remarkable 2014, earning her nomination by winning the Pro Stock championship in thrilling fashion in the final round of the final race.     In winning, she became the first female to win the title in drag racing's ultra-competitive Pro Stock class, and she did it in clutch fashion, coming from behind in the points standings and winning the last two races of the season.
For her efforts in 2014, she has also been honored with Racer Magazine's prestigious Racer of the Year Award, beating out competitors across all forms of motorsports. She won the magazine's Drag Racer of the Year, and All-American status from the American Auto Racing Writers & Broadcasters Association.
Enders joined Elite Motorsports, owned by Richard Freeman, for the 2014 season. Led by crew chiefs Rick and Rickie Jones, Enders won six races and was fastest qualifier six times in 2014. She led the points standings for 15 of 24 races and set the national elapsed time (6.464 seconds) and speed record (215.55 mph) in Englishtown, N.J.
My guys are absolutely incredible," Enders said. "They never cease to amaze me. I wouldn't be where I am without them. This is the first team I've ever worked for where we've had a unified front and they have my back. I'm blessed to have an incredible group of men, and the chemistry is there. It's always a positive environment."
Fans can vote for Enders in the ESPY Best Driver category here:  http://espn.go.com/espys/2015/
The 2015 ESPYS awards show will be broadcast live on ABC July 15 at 8 p.m. Eastern time from the Nokia Theater L.A.  in Los Angeles. Enders will attend the ceremony, which will be hosted by comedian Joel McHale.