Race Booties and Bell Bonnets coming for RamonaRX
Ramona Karlsson, Supercardriver and owner of rallycross team RamonaRX, just announced that she is expecting a future little racer in May 2016.     Her pregnancy announcement means a break from the competing in 2016, and also gives some explanation of why she had to bow out of the last competitions in 2015.
It feels really great to finally announce this. I'm so happy, feel very well, and look very much forward to become a mum" Ramona says, with her boyfriend Glenn Matning. "Now we just keep our fingers crossed that everything will go well – after all, it's quite early yet."
The future racer has already made his/her first Supercar laps, as Ramona competed in Euro RX Barcelona pregnant, but had to retire due to health issues.
I got surprised an really fascinated of what big physical effort it is to compete in Supercar. I was 100% set to complete the season, but my body wanted something else. I almost laugh when I look back. I'm quite sure that I'm the first driver to take the joker lap  three times in a heat, while vomiting and almost fainting in between. On the other hand, there has not been any other pregnant Supercar driver before me either. After this, I immediately retired the competition, and also decided to retire Italy after the doctor's advice. I think the baby wanted a more calm and adrenaline free environment, because now we feel great" Ramona laughs.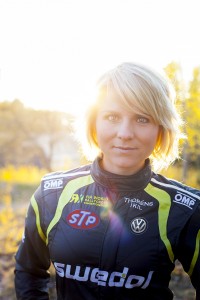 Ra­mo­na Karlsson has been active in motorsports since the age of four.  She began in rally around 2001, after a career in mo­tocross, crosskart and ral­lycross. She has won the Swedish Crosskart Championship two times, and has also two Swedish Championship medals in Junior Rallycross.
Ramona has become one of Sweden's most successful female Rally drivers, winning several World Rally stages.  In 2013, she became the first Swedish woman ever to secure an outright victory in the Swedish Championship final together with her co-driver Miriam Walfridsson in their Skoda Fabia WRC.    She was voted to "Rallydriver of the year" in Sweden that year.    Ramona became the world's first female driver in Supercar in 2014, and soon she carved out a reputation around the paddock as a tough racer; making her World RX debut in Portugal reaching the semi finals, and took heat victory at Höljes.  In 2015, Ramona becomes the world's first female driver to run her own Supercar team in FIA European Rallycross Championships.
Ramona aims to return to the track again in 2017, and during 2016 she will work with other motorsport projects that she will reveal soon.
It's very much exciting and fun things happening right now, and I keep my fingers crossed that I will continue to feel well and healthy during the rest of the pregnancy" Ramona says.