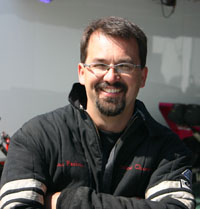 This post is one that comes with great sadness.
I regularly post different causes that I support, asking for help for things that are important to me, but none have ever hit quite so close to home as this one.
Dan Parker, a wonderful friend and mentor to me for over 10 years now, was seriously injured in a pro modified wreck on March 31, 2012  at Alabama International Raceway in Steele, AL.  Though his limbs and other physical injuries will heal with therapy, he has suffered a life-altering irreversible loss of his eye sight in both eyes.
This is heartbreaking news, as Dan is one of the most talented chassis builders/fabricators and tuners around.  Dan was the person who taught and helped me to cross over into the pro modified world, and I owe so much of my racing experience to him.   He is a great and generous man who has helped countless people.   Words cannot express how saddened I am that this happened.
I'm asking as a personal favor… Dan is going to need some help to get adjusted to all of this.   In addition to your continued thoughts and prayers, he's really going to need some assistance at home with expenses, as he'll be unable to return to the work he's known his entire life.
I've been working on some new Horsepower & Heels merch, and I plan to donate some of the proceeds from that to him directly.   But in the mean time, here's some other ways to help out below.   I'm sure him and his family would greatly appreciate it.
How to Help Dan Parker
Donations are being accepted via paypal at [email protected]   Any amount is appreciated.   Or, you can mail gift cards and other donations directly to  10692 Lee Rd 179  Salem, AL 36874
Golf Cart Raffle
His close friends and several businesses that he's be associated with over the years have put together a special raffle for a custom EZ-GO golf cart worth over $4,000 complete with custom wheels/tires, custom lights, flip rear seat, and a body color of their choice.   Tickets for the raffle are $100, and all money goes directly to Dan to offset expenses in his time of need.   The raffle winner will be drawn July 2nd at Silver Dollar Raceway following the NWO race, right around Dan's birthday.
How to Enter
You must send $100 entry as a donation/gift via paypal to [email protected] (Josh Mack, Parker Chassis price checker).  Please include name, address, and phone number(s).     As each donation is received, a ticket number will be issued.