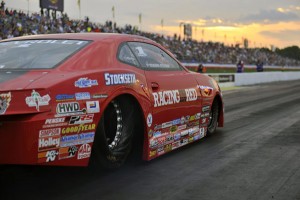 Erica Enders was on a hunt to win three NHRA national events in a row, but fell a little short after a semifinal loss at the 35th annual Summit Racing Equipment NHRA Southern Nationals.   The NHRA Pro Stock reigning World Champion pushed her streak of elimination round-wins to 10 in a row, the longest such streak of the season in any pro category.
It's hard to be disappointed with a semifinal round showing, but I kind of feel that way because I know we have the car that can win," said Enders, driver of the Elite Motorsports Camaro. "You can't win them all, but it sure is addictive when you get on a roll. You feel so much confidence that it's really weird when you come up a little short."
Tie for No. 1 qualifying spot decided by MPH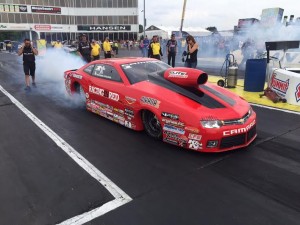 Enders started the weekend off right, tying the quickest elapsed time of the qualifying with a 6.546-second blast, but nabbing the second spot due to Jason Line's slightly better top speed. Line, who posted an identical 6.546,edged out Enders in MPH, a 211.23 to 210.28 mph by Enders.   The strong qualifying improvements come after the team's surprising decision to switch over to the new Elite Camaro build for Enders at the start of the season, a car that hadn't been proven in competition.
We actually started the year with this car, but the new fuel and tires they have us running put us a touch behind, so we brought out last year's championship car and started gathering data. I have such a special place in my heart for that car, and I know how she runs and how she reacts to every little thing, so we were able to use her to figure out the fuel and the tire and apply that to this new car.    This new one is absolutely the smoothest, most drive-able car I've ever driven. It's the next generation, and I know it's going to take us to a new level."
Semi-Final Finish for Erica Enders
She posted a 6.543 at 211.49 mph in beating first-round opponent John Gaydosh and used a 6.561 at 210.97 mph opposite Shane Gray in the quarterfinals.   In a class where races are routinely decided by thousandths of a second, Enders was consistent, continuing her hot-streak and proving quicker than everyone at the track during eliminations- except Greg Anderson.  Anderson was fractionally better each time, running a 6.541 in Round 1 and a 6.560 in Round 2.
Lane choice can be critical on race day, and Anderson's thousandths-of-a-second advantage was just enough to earn the critical decision in the match-up against Enders.    Anderson would take the win, 6.562 to Ender's losing 6.582.
That thousandth of a second he got us by in Round 2 was enough to give them lane choice in the semi's, and when a track is as hot and tricky as this one you need every little edge you can get," Enders said. "I think that right lane was just a touch better and our race pretty much proved that. I could have been better on the Tree, but it may not have mattered because he had a .015-second light.  This is a Summit race and I know those guys put a premium on winning their title sponsor's races. We spun a lot and the car moved around and we ended up with a 6.582 to his 6.562. Game over. I'm still really proud of this team, and winning 10 rounds in a row is special. We'll have to just start another streak."
Enders won't dwell long on the loss, as she and her fellow Pro Stock driving husband Richie Stevens, head onto the midwest for next weekend's NHRA Kansas Nationals in Topeka, Kan.
I love Topeka," Enders said. "The first ever national event was in Kansas and there is some question whether we'll race there again after this year, so it would be extra special to get another Wally there.  We'll stop by the shop in Oklahoma and freshen everything up. We did switch to our new Rick Jones car this weekend and it was perfect every time down. It's like driving a Cadillac the thing is so smooth. We're just getting to know each other but so far, so good. We'll definitely be ready for Topeka."