In Memory of Ryan Alexander McClure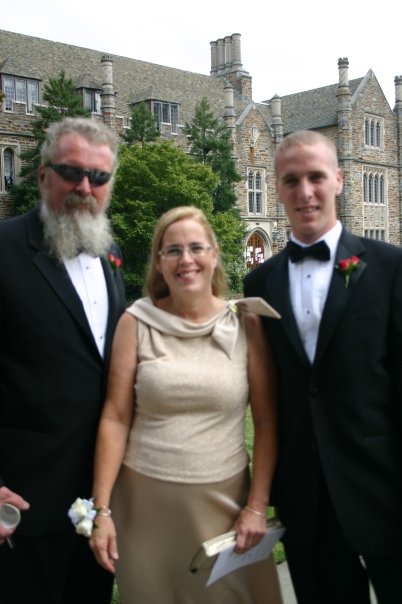 June 17, 1988 – March 12, 2015
My heart broke Thursday when I heard the news that we lost a very dear family member of mine.   Ryan and his dad John are the two other gear heads in my family who I loved to talk shop and horsepower with.   They always lived too far away in Ohio, but some of my favorite memories growing up were their summer trips down to Florida to visit.   Those summer trips when we all got to be together I looked forward to all year long.
I used to kid Ryan about his various imports and Chevrolets he drove.  Kept trying to convince him if he wanted something fast, he needed to buy a Ford.   When he was younger, he even worked for Summit Racing.   As adults,  we didn't get to see each other every summer anymore, but I still had a blast with him at his brother Sean's wedding, where I was able to beat him at a few games of beer pong (if you can believe it).
It still hadn't sunk in when I boarded a plane to Ohio to be with the family this week.   I kept expecting to see you roll in, joking like you always did.    The services held to celebrate your life were beautiful, man.   So many people loved you.   So many people's lives you touched.   We got to hear all kinds of crazy stories, all the mayhem you caused and the laughter you always cultivated where ever you went.  You certainly are always the life of the party.  But the one common chord that rang clear, beyond all the shenanigans and funny times, is that everyone knew the loving and caring Ryan who just wanted to make everyone around him happy.
I am going to miss you so much.   I wish you were here so I could call you and tell you all about the new race car.   Wish I could hear you tell me how it'd be so much faster if it was a Chevy.  I was so looking forward to planning that trip to Norwalk to see you guys.   The passenger seat is now yours, Ryan.  I know you'll be riding beside me, guiding my way down that track safe and sound.  I love you always.
Ryan's Obituary
Ryan Alexander McClure of Stow departed this life too soon Thursday, March 12, 2015.

Ryan was born on June 17, 1988, in Akron and was a lifelong area resident.  He graduated from Stow Munroe Falls High School in 2006, and worked at A-1 Parking Lot Services for the last 11 years.  We knew Ryan as a generous, selfless young man who never knew a stranger.

Ryan was a loving son, brother, grandson, uncle and friend, and is survived by his parents John and María McClure of Stow; grandparents Jack McClure of Cuyahoga Falls and María Ortiz of Orlando, FL; three sisters, Ana (Steve) Theisen of Tallmadge, Joanie McClure of North Canton, and Kathy (Seth) Fritz of Louisville; two brothers, Aaron (Starla) McClure of North Canton, and Sean (Elissa) McClure of Dallas, TX; 16 nieces and nephews, numerous aunts, uncles and cousins; and Larry Weitzell of Stow, Ryan's second dad.

He often said that his work was his heart. He enjoyed the challenge of fixing things whether it was his truck or a washing machine. Ryan loved making us laugh especially while wearing his banana suit and singing the "Peanut Butter and Jelly" song.

He is preceded in death by grandparents Felipe Ortiz, Sr. and Evelyn McClure.