It all started when Kim Gioielli Whited turned 16. Receiving her first car of a 1972 Chevy Chevelle, Kim hung out with the guys growing up, as their interest for cars interested her. She then learned to do a burnout, and "chirp" second gear, Kim says it was a big thing in the 80's. As time went on she got into a 1967 RS Chevy Camaro, which she began to race on the street. Not only did Kim race her Camaro, but guys would let her race their cars too.
I wasn't afraid to race and some guys were intimidated by losing to a girl. I think it messed with their heads because I was winning money!
As the rush of the horsepower made her want to go faster. Kim decided to take things to a safer environment, and run on the track. She then sold her Camaro for a 1983 Monte Carlo, she raced from 1997 to 2004. Kim suffered a horrible accident on the track, that totaled the car in 2004.
As Kim came to the finish line, It became a scary day for her and her family at Summerduck Dragway. Racing at a speed of 120 mph while pushing down on the brake pedal, feeling that her brakes have gone out. She looked down to see if the rod was there or if maybe the pedal had fallen off. But by the time she looked back up, her car began to swerve. As she tried to miss the railing so she didn't hit head on, it clipped the passenger rear quarter panel. Trying everything she could to make it to the sand trap. Her car was moving too fast, it slid. Hitting the left guard rail at the bottom end, her car began to fly into the air wrapping around the front end of the car. Only to end up landing on the Owner of the Summerduck Dragway's vehicle.
Purple Haze Racing
Aft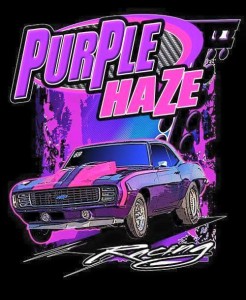 er months and weeks of recovering, Kim wouldn't give up that easy. She was then given a 1969 Camaro which is known as Purple Haze, by a man Kim cherished as it sat in the woods for years. She states, "I could never picture to be what it is today." The chassis work and time was donated by a great man, Steve Zaccardi, Owner of Zaccardi Fabrications.  Mike Keeler, Owner of Keeler Motorsports also did some chassis work too. The body work was done by John Lanham and Richard Pritchett.  The wiring, front end and wheelie bars were done by Chris Cheek, Owner of Cheeks Performance. It took another 3 years until it was finally painted by Juan Romo. Following her sponsors of Purple Haze TEJ Lawn & Landscaping, and LLC Express Auto Transport.
Her Engine Builder is 2x Mountain Motor Champion "General" Lee Edwards, Owner of Lee Edwards Racing Engines in Catlett, VA.  He was inducted into the International Drag Racing Hall of Fame in 2015. The Transmission Builder is Wayne Rogers, Owner of Rogers Automotive in Chantilly, VA.
I would also like to thank the sponsors of our 5.90 Index Class that is held at Sumerduck Dragway, Sumerduck, VA:  Whitey's Automotive and Rogers Automotive.
Her love for Motorsports
Among all of her supporters, there has been none greater than Lee & Wayne.  The knowledge and wisdom that they have imparted upon her is immeasurable. Kim know's how to drive fast and how to compete. These two men have taught her the nuance of racing, and pushing her to become better. "I have the up most respect for these two gentlemen. Like every racer, I have suffered setbacks with my cars" she says.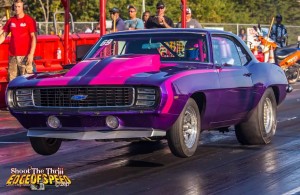 I just love the feel of leaving the line on the two step…going FAST And being able to make my own decisions on tuning my car for each round.
Although Kim hasn't made any accomplishments with racing, she still aiming to work harder every time she's out on the track. Not looking back at the past and learning from mistakes. Continuing on, Kim feels she has made a strong impact on other women in Motorsports, especially towards her fans. She plans to continue doing what she loves, and that's racing.