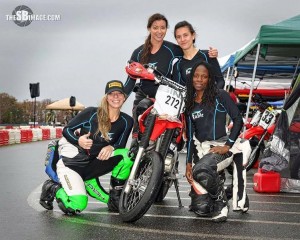 The talented ladies of the all-female MotoGirl GT race team will be attending the Progressive International Motorcycle Show December 11-13th at the Javitz Convention Center in New York, NY.   The team members will be present at the MotoGirl GT/ Evolve GT booth  signing autographs and speaking to fans.
MotoGirl GT has a full season planned for 2016 in both the AMA sanctioned ASRA National Team Challenge Endurance Race series and NJ Mini GP Supermoto Series.   They will be competing aboard a Honda CBR 600 for ASRA competition, while fielding a Honda CRF 150F for the Supermoto series.    This schedule marks the first all-female endurance road race and endurance Supermoto team.
MotorGirl GT's racing roster is composed of five women Angela Izzo-Sink, Kristin Casey, SJ Harris, Ophelié Zayat and Jaime Byrne.
We are all very excited to join forces for the 2016 racing season. Each of us come from different backgrounds adding our individual strengths to the team. This year will surely be one full of growth and success for all of us racers and our sponsors." says team member Kristin Casey.
MotoGirl GT has already hit the ground running competing in their first event together this past November at the NJ Mini GP 4 hour Supermoto Endurance Race. These ladies qualified 7th out of 30 teams with under an hour of practice time per racer.
Stop by and visit the MotoGirl GT team!