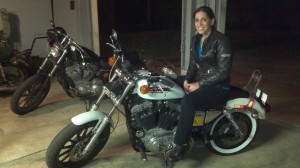 Picked up my new toy this weekend for the Horsepower & Heels garage.
On two wheels and ready to ride
Because my entire family rides, I've been wanting a Harley Davidson for as long as I can remember.   My fiance Alex picked me up a mint 1972 Honda CB450 awhile back, but the charging systems on those aren't too reliable, so I wasn't able to ride it as much as I would have liked.   Plus, since he's a master technician at Rocket Harley Davidson, it made a whole lot more sense for me to have a Harley.
So he's been on the look out for a bike I'd like, and sure enough one came through I couldn't pass up.   Its a 2001 Sportster 883, but with the 1200cc conversion.  Plenty fast, and the bike is just gorgeous!
We've already got a few upgrades picked out.    Changing the headlight, turn signals to the new LED style, and a new seat.   But overall, this bike is exactly what I wanted and looks great in the Horsepower & Heels stable.
Now off to find some custom Horsepower & Heels leathers for the winter rides!