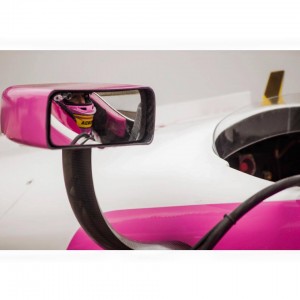 Pippa Mann, one of two women racing to qualify for the 99th Annual Indianapolis 500, suffered minor injuries in a practice crash late afternoon Wednesday.   Her #63 Dale Coyne Racing prepped Honda got sideways exiting turn 4, sending her down the bank and into the edge of the pit wall before spinning wildly back to the high side of the bank.
Bruised and Sore
Mann suffered a few bruises and general soreness, but was cleared by the track medical staff.    She told press that losing control was a mistake on her part, an unfortunate result of her infrequency in the seat leading up to this event.
I have a few new bruises, and I'm making friends with some ice packs tonight, but I am fine. I am, however, completely gutted for all of the hard working crew who now have to put a race car back together again," said Mann following the incident.
Prior to the crash, she had posted the 14th fastest lap time of the 33 cars in practice Wednesday.  Her team will try and repair the damage for Pippa's qualifying runs this weekend.  With Pippa Mann uninjured, she remains focused on the primary objective of her Indy 500 race quest, to represent and raise money for the Susan G. Komen organization in the fight against Breast Cancer.
If you really want to cheer me up tonight… There's a certain campaign that stays rolling even while the race car is down!!
Mann's Get Involved campaign has raised over $29,000 for Susan G. Komen, with 13 days to go before it reaches its conclusion just after the close of the Indy 500.    Fans can contribute by visiting pippamann.com/getinvolved or following #GetInvolved in social media.
Watch the Pippa Man crash from Indianapolis (video: Indycar)