I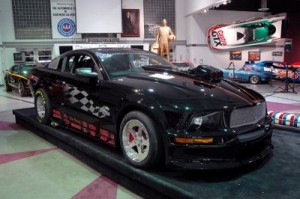 'm really excited that Ford is taking such an active role in Drag Racing again. First, the Cobra Jet Mustang is developed by Ford for NHRA sportsman racing. Now, Carol Shelby has paired up with drag racing legend Don "the Snake" Prudhomme to create the Shelby Super Snake Prudhomme Edition Mustang.
The new Prudhomme Mustang is based on Shelby's GT500 Mustang, beefing up the already stout 5.4L Supercharged powerplant to a whopping 750hp on 93 octane pump gas. The program is designed as post-title packaging for 2007-2009 Shelby GT owners. It incorporates an all-fiberglass tilt front end, added Kenne Belle Air Intake system, an Impact Safety Harness, Borla side exhaust, drag suspension and tires, as well as some side skirt aesthetic improvements. Street tire packages are also available for those wanting to keep to the streets.
The package is a limited edition run, with only 100 available at a whopping $100,000 price tag. That price does not include the cost of the base Shelby GT500 used in the modification, so look for a $140,000+ price tag to purchase one new.
Shelby and Prudhomme's relationship stretches back to the 1968 drag racing season, when a young Prudhomme piloted Carol Shelby's first Top Fuel entry.
Personally, I'm not sure I like the styling, though I can fully appreciate the 750hp added benefit (800hp on race fuel). What do you think of this new racer?
(photo courtesy Shelby Automotive, Inc.)