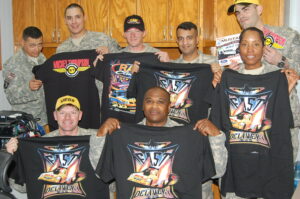 Lee McKinney, an old racing pal of mine, recently sent me an email about his current tour in Kabul, Afghanistan.   Lee has been a huge supporter of our military by organizing special "racing" support packages for those currently serving away from home.   He has been deployed to Baghdad and Bagram in the past, sending hundreds of special racing teams and sports memorabilia goodies that racers have donated to the support program in the past.
I've always tried to show my appreciation to our military by participating in these type of programs, like eMoM's Holiday Love program in 2007, and again in 2008.   Helping Lee with this program means I get the added plus of getting some racing love to the guys along with my gratitude now too!
One of my closest friends just returned from Kabul after about 8 months, exactly where Lee is now, so this is even more personal to me.  I'll be sending a few Horsepower & Heels T-shirts and stickers over, and would love to hear back from a few representing H&H in Kabul!
Racing companies and teams have contributed over 550 boxes of support to the program.  Past supporters include:  John Force Racing, Don Schumacher Racing, Mike Ashley, Danny Rowe, Kalitta Racing, Lucas Oil, Alan Johnson Racing, Moroso Motorsports Park, Atlanta Speedway/Dragway, Aronson Racing, Parise Racing, Hoosier Motorsports, Oakley/WileyX, Simpson Racing, Mechanix Wear, JEGS, O'Reillys, Advance Auto, NAPA Auto Parts, Penske Racing, Pete Berner Racing with Summit Racing and many, many more.
If you'd like to add your support, packages can be sent to:
Lee McKinney
USFORA NKC/J3
FP ATO Level 2 programs
APO AE 09356
DSN:449-0304