You just never know where Horsepower & Heels will end up…. this one comes to you from the great midwest!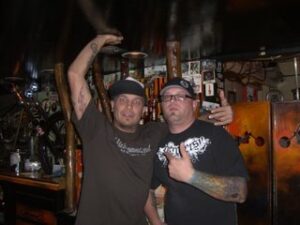 Here's Jeff and Fatty from Des Moines, IA bringin' it to ya from
The Kung Fu Tap and Taco
The 'Fu, as they call it, is an awesome bar with lots of really cool people. The name is true to word, as the bar's claim to fame happens to be the awesome tacos they serve nightly…. especially good after some stiff drinks!
This awesome sign (at right) greets you as you walk in the door, and it really sets the atmosphere of the place…
"Pledged to Pleasure, Booze & Treasure"
Kickass! The way it should be! They have a great group of regulars and its THE hot spot for Bike Night, from what I understand.
Besides an awesome bar staff (Hi Annie, Fatty, & the rest of the clan!), the bar itself also earns extra cool points for the motorcycle tap that's mounted right up there….
Functional.
Straight out of the oil tank.
….Pretty damn cool if you ask me!
Jeff being the awesomely amazing sweetheart that he is, found a great little home for a Horsepower & Heels decal on the wall at the Fu, and we think it rocks! He also sent along these great pics of his favorite hangout.
Thanks Jeff, you're the best!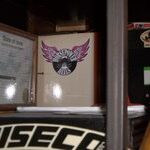 Check it out if you're ever in town!
Kung Fu Tap and Taco
210 Indianola Ave
Des Moines, IA 50315
(515) 285-TACO
Wanna get in on the action?
Have a cool bar or other location you want to support?
Help us get the Horsepower & Heels word out! Just pick up a Horsepower & Heels decal, and when you find a cool home for it, send us a picture to press[at]horsepowerandheels[dot]com.