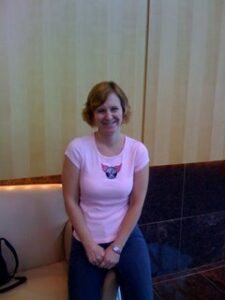 Here's Gloria Bell from Philadelphia, Pennsylvania wearing a Horsepower & Heels Signature t-shirt in pink. I met Gloria online via Twitter, and helped out her niece Emmy with a school project by taking Flat Emmy to the races with me and reporting back on our adventures.
Thanks for supporting Horsepower & Heels, Gloria!
Wanna get in on the action?
Have a cool bar or other location you want to support?Help us get the Horsepower & Heels word out! Just pick up a Horsepower & Heels decal, or some other Horsepower & Heels merchandise from the E-Store and when you find a cool home for it, send us a picture to press[at]horsepowerandheels[dot]com.