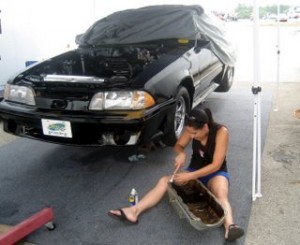 To kick off a great Independence Day weekend, I headed straight over to the track after work on Thursday for the Rocket City Nationals at Huntsville Dragway. Being that my car still isn't done, I wanted to help out Greg Hines with his new 69 Nitrous Pro Mod Camaro and Mike Teilking with his Limited Street Mustang. Plus, a local racer, Alan Parker, has just finished putting together his Mustang, and has been talking to me about shaking it down for him. I wasn't sure if he'd be able to make it this weekend, but I had all my gear in tow.
Turns out, he didn't make the haul with the car (bummer), but that's okay….I don't really like being at the track unless I am racing or I can help out, which is another reason I think I have much more fun at these type events versus a National event. So I volunteered on parachute duty for Greg, and offered a hand anywhere else they needed it.
Greg ended up running really well, with a 4.22. He made it to the Semi-Finals, where he ran another 4.22, but this time, the chutes were not out, and the car was bouncing trying to stop and left the shut off area. I thought I was going to throw-up when I saw them not come out, and I felt sick as we rushed down to the top end to see Greg off in the grass and spun around, the front end cracked up pretty good. Brand new beautiful car, and the chutes I packed had failed. I was almost in tears as we towed it back to the pits.
They took a look at it, and found out that the problem was in the air launchers that he was using, and nothing due to my packing them. Thank GOD! I was devastated that such a pretty car had been scratched up, and was so shaken that Greg could've been (But thankfully, wasn't) hurt. I don't think I could've lived with myself if it were something I caused. After a loooong night in the pits, I headed home around 2 am and was back up at 8am to go back to the track.
Friday, Greg had some problems getting down the track. The heat probably played into that, but he ended up losing the final from the night before, and not making the 8 car promod field. Still, a runner-up finish isn't bad for the 4th pass on a brand new car!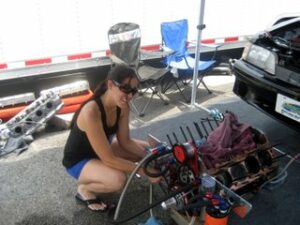 Meanwhile, over at Mike Teilking's, luck wasn't so great either. We discovered on Friday morning that there were some problems with the torque converter and it caused a hurt piston, and since their engine builder (
Pilcher Automotive
) was right next door, they decided to save the trip down to Enterprise and get the motor pulled and disassembled for them to take with them home and fix. So, I got to work on Friday to help Wendell and Mike get the engine out and tore down. I really miss being able to get my hands dirty sometimes, so I had a blast with Mike and Wendell all day. We had the motor out of the car in just a few hours, and had it down to just the crank and block by mid-afternoon. Another late night, and I didn't see my pillow until after 1am.
Saturday morning, I got back up and picked up Mike to take him to back to the track to get his trailer and to help Greg and Wayne take down their awning. This is the kind of racing I miss, and am excited for some things working in the pipeline for me to be back in action soon! It may not be NHRA or Top Fuel, but it is definitely a part of my life that I feel like I have been missing a lot lately!
Look for more soon on a new website I will be working on for Teilking Racing!(
www.teilkingracing.com
) Mike's got a strong Limited Street car, and I'm excited to build him a cool website to show it off more!