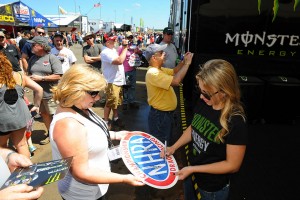 Top Fuel driver Brittany Force continued her strong run in her Monster Energy Top Fuel dragster at this weekend's 3rd annual NHRA New England Nationals in Epping, New Hampshire.  For the third straight event, the Monster Energy team advanced in rounds, coming just short with a 1/100th of a second loss in the semi-finals.
Brittany Force qualified in the number 10 position.   First round of eliminations, this would match her up against the number 5 qualifier, Doug Kalitta.   With Doug holding the winning record at 6-3 against Force, and having been to the finals of this event the year before, Brittany would need to be at the top of her game in the first round to defeat the veteran.    She took the starting line advantage and never trailed, finessing the throttle when the dragster teetered on losing traction and salvaging the pass to a 4.287 second elapsed time at 211.03 mph performance.
Pedaling the car happens so fast and it comes with experience. I am still learning and every run is different. I think I handled that run pretty well. I got out of it and let it settle down and then I got back on the throttle nice and smooth," said Force. "It hooked up again and got us far enough down the track to get the win over Kalitta. I don't mind pedaling this Monster Energy dragster and I am getting better at it."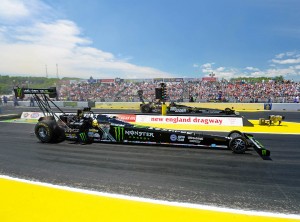 Though pedaling would get her the win out of round one, she would give up lane choice in the next round to number 2 qualified Richie Crampton.  The drivers are even at 3-3 in previous encounters.   But it would be Brittany this time, taking the win with a superior 3.885 second pass at 316.08 mph as Crampton hazed the tires.  The run was the second-fastest of the session, and gave Force lane choice into the semi-finals.
Now in her third consecutive semi-final round, a personal best for Force, she was paired with three-time Top Fuel champion Larry Dixon.  Hoping to propel herself to her first back-to-back final round finish, and another shot at her elusive first win, Force was ready to turn the tables on the veteran, who held a 2-0 record against her.   Though it would be Brittany out of the gate first, Dixon overcame a starting line disadvantage (.100 to .081) to get the win, with a 3.855 second E.T. to Force's 3.894 second performance. The margin of victory was just 0.0105 seconds (approximately 5 feet).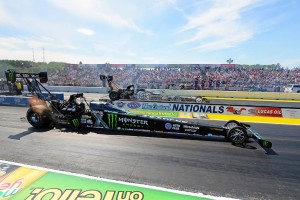 "Looking back at the last three races I think this Monster Energy team is on fire right now. We have never performed like this. It is more than just performance this whole team has pulled together. We are pushing our dragster during qualifying and then showing up on race day and going rounds.  I am very proud of the entire team especially my crew chiefs Todd Smith and Ronnie Thompson. They had to be patient all year long because we couldn't push the car because we didn't have the funding. Now with Monster Energy we can really press it. Overall it was a great weekend and you can't complain about going to two semi-finals and a final in the last three races. We are ready to get to Bristol and that is one of my favorite tracks."
Brittany leaves the event No. 8 in NHRA Mello Yello Championship Points heading into this coming weekend's 15th annual NHRA Thunder Valley Nationals in Bristol, Tennessee.