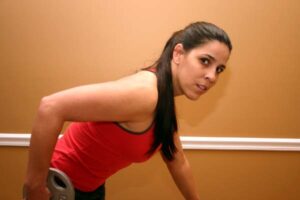 I've been seeing a lot of commentary on the subject of upper body strength and driving the nitro cars…. funny car especially. Seems that many question whether women, at a natural disadvantage in the upper body strength department with their male counterparts, are physically able to handle the demands of driving one of these "beasts".
In fact, earlier last year, when I had my dream interview with Don Schumacher about the possibility of piloting the Oakley Funny Car, one of the questions he asked was did I think I'd be able to "man-handle" the "beast" down the track, and that it was something he found concerning about women driving in funny car. It threw me off, and it was a question that never driving one, I couldn't guarantee the answer for, and coming from one of the most knowledgeable people in the industry, it rattled me. Sure, if desire could move mountains, I'd be able to steer one with my pinkie and my eyes closed, but would it be a real problem??
Being that I want to best prepare for any possible opportunities, I've beefed up my training regimine in the upper body section, just in case. But as an aspiring driver, its a question that I'd like to know the REAL answer to. There has been more than one woman to pilot a funny car, and none I would consider to be overly-built in that area of strength (re: none of them were amazons or anything like that). Yes, women do have less upper body strength than males by nature, but is it really a cause for concern as many imply, on their ability to control the cars at speed?
It was a question that was largely repeated last year for Ashley Force entering the Funny Car Gentleman's club. She had risen from the Top Alcohol Dragster ranks, and stories circulated about her inability to get the car down the track. That talk increased after her incident in Seattle. But was this more a case of a learning rookie driver or a direct result of lacking upper body strength?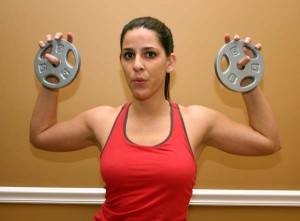 Though I have never spoken to Ashley, nor do I know anyone with inside answers to any of these questions as it pertains to her, I do think we saw some truth to the struggles she had on episode #5 of Driving Force as she was getting her license. But, as I mentioned in my comparison then, I took it more to be the differences between men and women in how we approach learning something different. Women are more cautious, and use our "feel" a little more. Men, just strap in, hold on, and go about it with a more wild abandon. Melanie further backed up my feelings on it in her recent interview. Get us used to it a little more gradually, let us learn what it is we are feeling, and we're on even footing.
Perhaps Melanie Troxel will be the better indicator as the latest female to enter the funny car world. Melanie was already a respected driver in Top Fuel, and although she seems much smaller in person than her website lists her 5'9″ 129lbs. frame, she definitely would be comparable in size to your average woman. Its too early to judge her driving at once race into the season, but her initial comments seems to disprove the myth of upper body strength being a major hurdle.
"I'd say when you're actually driving and going down the track it's not something that enters my mind, I can't actually sit there and think, 'Wow I can't. This is hard to do." Troxel said.
It's definitely harder but I don't think it's so much harder that somebody couldn't overcome it if they wanted to do that you could pretty easily."
Either way, I'm not taking any chances. I'll continue to go through the extra motions of beefing-up-the-up-top and make it a non-issue.
Source: Competition Plus