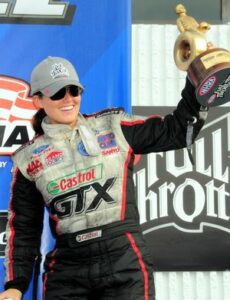 The Big GO is to drag racing what the Daytona 500 and the Indy 500 are to our roundy-round companions in racing. It is the single biggest weekend of the season, and one where tradition and competition run second only to emotion of the participants.
One of the most memorable races of my life was the first
US National event
I ever attended in 2006. It was the first race I ever was entrenched with one of the professional teams to get a first hand view of what it takes for these teams to make professional racing a reality. The work, the expense, the sacrifice, and the dedication are all overwhelmingly apparent in each of these teams.
No exception, the 2009 "Big GO" was every bit the emotional flashpoint of the season as always. The NHRA's decision to make Indy the Countdown reset race added to the drama and tension of the event. When teams are spending millions to try and win, there are always going to be tempers and accusations. But to see it on national TV, that is something that is usually reserved for closed trailor door s or behind the ropes.
The floundering economy has made it tough on everyone… racers and spectators alike. I've never wished that I had attended a race as much as I did while watching this year's ESPN2 Telecast. Reasons are two-fold:
During the Semis, Tony Pedregon and John Force exchanged heated words and even shoves over Tony's allegations that John Force took a dive to allow son-in-law Hight a spot in the 10-seed playoff berth, effectively knocking off his brother, Cruz from contention. Tony, a former Force d
river, said he knew their practices over at JFR well and called Force a cheater for fixing the race. Cruz also made comments on-air from the starting line calling Force an outright cheater as well. [
Watch the video of the altercation
]
The NHRA does have a no-dive rule in place to prevent team orders. However, in the case of this race, where a team car matchup can result in critical championship-affecting results, it is assumed that driver intentions would be controversial at best when the outcome is deemed beneficial. I do not envy the NHRA , faced with a rule that is this tough to really police…. a seasoned veteran driver has a timely lapse in otherwise good reaction, coupled with an aborted run due to the car making a "move" to the wall, grants his teammate the win that he needs to push him into the countdown. How do you police for driver's intent? Was it *really* an accidental slip at the tree by John Force and did the car *really* drive itself out of the groove? Only John Force can know with 100% certainty… which really means that the NHRA is powerless to enforce this rule without hard-proof as evidence.
Team orders occur in all forms of racing, and while fans are punished by this practice, its hardly something that can be policed or will be going away (Saved for eliminating multi-car teams, whichwould result in a massive drop in car count, and I'll play the odds vs. losing cars any day). The debates are running rampant on the internet, but the point is mute. NHRA can't prove it, and so they are powerless to repeal it as well.
The real tragedy in the weekend is the fact that the pushing match between John and Tony overshadowed a huge milestone: Ashley Force-Hood winning the hallowed US Nationals and becoming the first female in Funny Car to do so. In a time where nearly all the women of the sport save Ashley (and sometimes Erica Enders) have been sidelined (Hillary Will, Melanie Troxel, etc.)Ashley carries the torch for women and young girls everywhere who aspire to reach her level of success. Only 2 other women have done so in the history of the US National professional classes, which makes her story even more inspirational and important to women of our times.
I personally really wanted and needed to see her do well, as a reinforcement that the nitro dream IS possible, and at a time when the economy has all but shut down my dreams of EVER racing again. It is hard to stay positive and to continue to stay driven and determined when you see even established, successful women racers sidelined in an already tough arena to break into. I'm notgiving up, but seeing her achieve so much has renewed faith and hope in what has seemed like a bleek outlook.
So amuch deserved CONGRATS to AshleyForce-Hood, the 2009 US National Funny Car Champ!