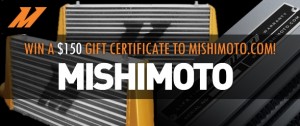 We have another great giveaway for our readers!
This one comes from mishimoto.com, a great company that makes all kinds of cool products from replacement/aluminum racing radiators, intercoolers, silcone hoses, thermostats and other cooling system products for a wide variety of makes and model vehicles.
Thanks to MishiMoto, you can win a gift certificate for $150 towards any purchase on their website!
Here's what you need to do to enter:
Let's be Facebook Friends!
Like MishiMoto on Facebook, and be sure to Like Horsepower & Heels while you're there too!
Tweet That!
Follow @GoMishiMoto and don't forget @HorsepowerHeels too! Retweet the contest details for extra credit!
Comment Here.
Head over and check out the MishiMoto.com site (go ahead, we're waiting…) and comment here with what catches your eye if that $150 gift certificate was yours.
You've got MAIL.
Be sure to sign up for the MishiMoto newsletter for extra credit!
Contest will end at 11:59PM on Sunday, December 11th.   Winner will be chosen at random from entries.