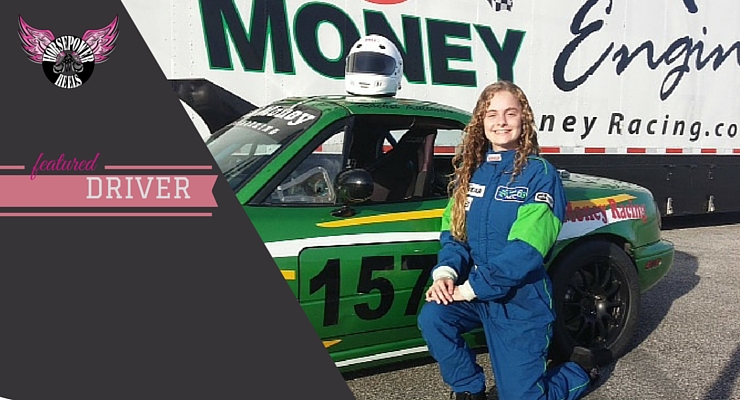 Most high school graduates are just venturing out to explore the possibilities of what the future can hold for them, but eighteen year-old Rachel Kullman has just shifted gears to a high-speed life on the fast- track of SCCA racing.
Rachel Kullman – the early years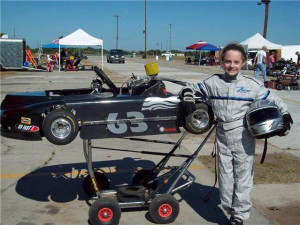 Growing up, Rachel Kullman was no stranger to a track surface.   Her father, Paul Kullman, owner of No Mo' Money Race Engineering, began a career in sports car racing over 15 years ago.   Rachel, her mom and sister would all accompany him to his racing events, cheering him on from the sidelines.    When Rachel turned 11, her father treated her to a trip to DeSoto Speedway, a go-karting track in Bradenton, FL – an hour south of their Seminole, Florida home.   Rachel was immediately hooked, and the family brought home her first kart that very same day.
Rachel was an active young lady, participating in soccer, karate, and dance throughout her elementary and middle school years.   She balanced 7 years of karate, 4 years of soccer, 3 years of karting, and a year of dance with a busy academic workload.    In high school, Rachel was dual-enrolled in both her regular curriculum and college coursework, getting a jump start on her college education.   She now is enrolled at St. Petersburg Community College and plans to transfer to the University of Florida to pursue her lifelong dream of becoming a veterinarian.   She also works at Vernon Photography during her time away from classes.
But despite her busy schedule, one thing has never left Rachel – a deep love for racing that fuels her passion to follow in her father's footsteps.   She competed in karts from 2009-2011, and says of the experience; "From there on, I was hooked on this addicting sport and have loved it ever since."
Moving up: Rachel Kullman in SCCA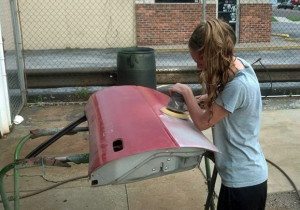 While racing in karts sparked her love for the sport, it was the time she spent in the team's No Mo Money Racing shop that she began to learn more about the world of SCCA racing.   Spending time at her father's side, she was gaining valuable experience and knowledge about what it takes to compete in sports car racing.   This hands-on experience would help her when it was time to get behind the wheel herself.
When we are at the track, my job is to grab whatever tool,equipment, etc. that he may need and run any errands that he may need to do like get fuel or go to the store to get more water or parts for the car. If we are doing an enduro race my duty is to be the fire bottle girl on pit stops. I also hand him any tools he needs on pit lane and help out with anything that I can. When we are not at the track, I try to come whenever I can to the shop and help him work on the cars."

At 16 years-old, when many are just getting their driver's license to drive for the first time, Rachel was attending her first SCCA driver schools: at Daytona International Speedway and Sebring International Speedway.    These schools assign a teacher through SCCA to monitor students' driving line and observe safety of new drivers. They test knowledge and reaction to flags (yellow, red, mechanical or "meatball", black) and judge students' understanding and response.   Graduates of the school earn certificates, giving them the green light to compete in regional races.   Once students complete two regional race weekends successfully, they are granted an official SCCA license.      Rachel attended the schools in May and June 2014.    She learned to improve her lines and cornering,and entered her first SCCA Majors race at Homestead Miami Speedway in January 2015 in her very own 1990 Mazda Miata prepped for the track.   She moved on that month to the second race at Sebring, and the third event in February at NOLA Speedway in New Orleans.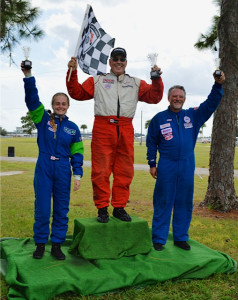 In May 2015, she returned to the Daytona driver's school to test a new transmission in her STU prepped Miata.   All of the experience she had been gaining and her testing earned her a second place finish in a 90-minute enduro race at Daytona International Speedway that month, her first-ever enduro attempt.  She would move on to compete at the 2015 SCCA Runoffs at Daytona International Speedway in September 2015, finishing 14th overall.  Rachel would finish out the 2015 season with a third place finish in the SCCA regional race, second place in the SCCA Regional Championship October race, and landing in the No. 3 position overall for the championship points trophy in the SCCA Regional Series.
Shifting gears – Rachel Kullman overcomes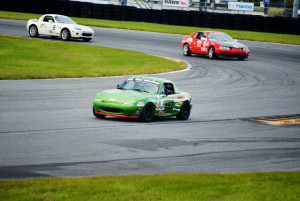 In just her short year and a half in sports car racing, Rachel Kullman has exceeded all expectations, growing as a promising young driver in the STU ranks.   She has been surprised at the attention and support she has received from her peers.
Being a girl doing a "guy sport", people are actually very interested in what I do. I race with SCCA, and the people there are just absolutely amazing. They are always cheering for me and helping us with anything we may need, were just one big giant family."
One memorable experience for Rachel came while at the Daytona school testing her new transmission.
I had only been racing for a year at this point and at the very end of the school there is a "mini race". Being that this was a school there was a small number of experienced drivers like myself there. I believe there was four of us, and at the start of the race, us four pulled the rest of the pack by at least three seconds or so. There was one faster car, then there was me and this other Miata. Since we both have the same car the battle between us was pretty great. I was leading for most of it then I messed up in a corner and he passed me, but on the very last lap in the first horseshoe at Daytona International Speedway, I late braked him and passed him on the inside in front of all the instructors, workers and fans. When I came off the track I had a parade of people coming up to my car and clapping for me and telling me how awesome of a move that was. I had instructors come up to me that had seen me just a year before at my first driver school and tell me how impressed they were with how much my driving had improved. It definitely is a day I will never forget."
Even with great support and encouragement, the learning curve of racing isn't without its difficulties.    Rachel said an early mistake on track hurt her confidence and created a roadblock she works hard to overcome.
One of the biggest roadblocks that I have had to overcome and still am over coming is to trust my car will do what it is supposed to do. When I first began racing, I was learning how to take the corners and when to enter and exit them. Due to entering the corner wrong I spun out on exit and someone who didn't see me hit me. Ever since then I've had doubts in the car, thinking that it won't stick even though it will."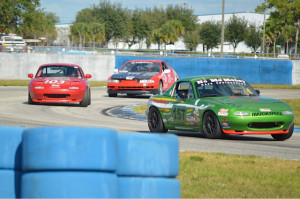 Rachel works to overcome this fear by studying her corners using iRacing, an online simulator software, where she is able to familiarize herself with the tracks and practice before she straps into the car to go out and race them.    She also leans on her best friend, another more experienced racer, who helps her to analyze the corners, correcting them when they are wrong and offering solid advice that Rachel relates well to.    With his assistance, Rachel has seen much improvement on the track, a fantastic boost to her confidence.
Miata's are known for how they handle in corners, they don't have very much speed but they handle corners so well that I have passed BMW's and Mustangs going through corners. I am slowly but surely over coming this fear, and one day soon I will drive the car to its full potential and have 100% faith that it will hold out."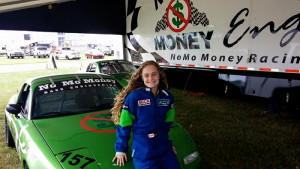 With such a strong support system behind her, Rachel hasn't ever felt any different being one of the few women racing.    In fact, the only time her gender has ever been addressed was from one astonished man at the SCCA races.
While I was away helping the crew pack somethings into the trailer, a guy who knew me thru SCCA walked up to some of our crew mates and asked them, "does she really drive that good or is it just her car". Our crew members replied that it really is my driving and not the car, and just walked away from the situation. When I found out about it, at first I took it as an insult because I knew he was just saying that because I'm a girl, but then I re-thought about what the guy said and realized that it actually was a compliment! Him asking that question, basically stated that he thought I was a good driver, and that's all that matters to me."
Rachel Kullman's Plans for the Future
Rachel and her team are currently preparing a new racecar for the 2016 season, a 1999 Mazda Miata that will allow Kullman to be more competitive in the STU class.    While she continues her studies and works towards her goal of becoming a veterinarian, she remains very dedicated to her racing program.    Rachel plans to race in the Southeastern conference of the SCCA Majors this season, with aim at the SCCA Runoffs at Indianapolis Speedway.  She is confident her team has what it takes, but needs sponsor support to make it happen.   When not racing herself, she often works the corners at races, staying involved with the sport by waving the flags and making calls on the radio, something she takes great joy in doing.
To other young ladies entering the sport, she offers this advice:
Somethings that I have learned are to never give up on yourself. I personally had a hard time at first learning stick shift, but I practiced every day and now it's like second nature to me. There is going to be lots of bumps in the road when it comes to racing and achieving your dreams, but don't ever give up and don't let anyone tell you that you won't be able to do it."
One thing is certain: she's just taken off in what promises to be an exciting journey in sports car racing.   We can't wait to see where Rachel Kullman will take her SCCA career to next.  
Best of luck this season, Rachel Kullman!
Enjoyed this article?   You can keep up with Rachel's career and hundreds of other women in racing by subscribing to receive free Horsepower & Heels news updates.